ABOUT IRON FORTRESS
We value the moments. The moments that change us for the better. When our hearts beat and our eyes meet. When we find each other in the darkness and stand together. When we create and uphold an illusion, play together, and discover something true about ourselves.
Iron Fortress aims to inspire and empower people through recreational, immersive experiences. We believe people's lives can be greatly improved by pushing personal boundaries together through play-acting in a positive community.
To achieve this, we design, manufacture and distribute a wide range of apparel and equipment for historical re-enactment, live-action role-playing, theatre and movie productions and similar activities. Our products are made through an iterative design process emphasising safety, functionality and aesthetics.
We offer a wide range of brands catering to different styles of role-playing and play-acting, such as Epic Armoury for fantasy settings, Dark Moon for post-apocalyptic settings, and Yoremade for historical settings inspired by past cultural eras of Europe. We have also teamed up with other industry-leading brands, inspiring and supporting each other towards providing the best selection of products and helping you prepare for your next adventure.
Each product is meant to be an extension of your imagination as you immerse yourself in fictional or historical characters and settings. By safely acting out our wildest, weirdest, worst or most wondrous traits together, we connect and grow as people and can help others do the same.
CULTURE
At Iron Fortress, our core values define who we are and guide our actions. We believe in fostering a positive work environment that encourages collaboration, creativity, and mutual respect. Our success is built upon the unique contributions of our dedicated employees, whose passion, expertise, and efforts drive our mission forward.
We recognize the importance of nurturing a supportive atmosphere where every team member feels heard, valued and empowered to achieve their full potential. In pursuit of this goal, we prioritise open communication, professional development, and a healthy work-life balance for all.
At the heart of our company lies a commitment to inclusivity, diversity, and fair treatment, ensuring that our workplace is a welcoming space for people of all backgrounds. We take pride in cultivating strong relationships with our employees, celebrating their accomplishments, and providing them with opportunities for growth and fulfilment.
Together, we strive to embody the Iron Fortress spirit of excellence, unity, and innovation, creating a positive impact on both our industry and the lives of those we touch.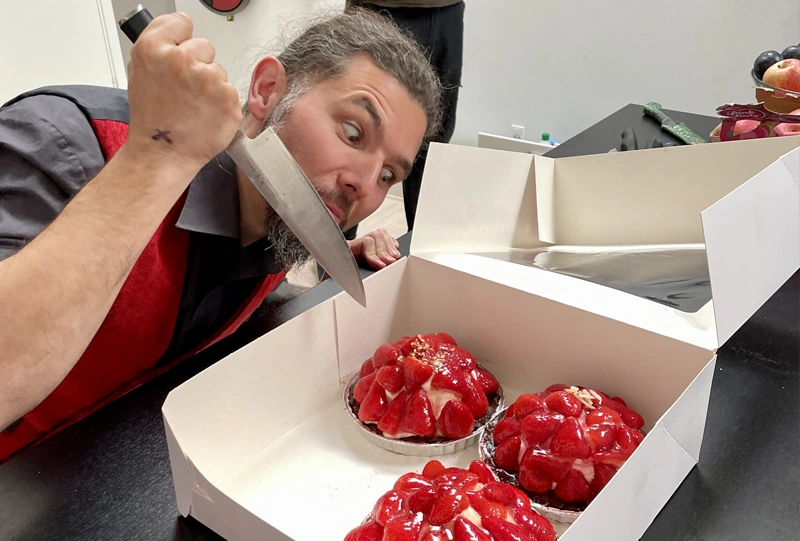 Bring the cake
At the hallowed halls of Iron Fortress, a time-honoured tradition stands resolute – the glorious celebrations with cake. Whether it be the triumphant occasion of moving homes, embarking on an exhilarating holiday, or welcoming a valiant new pet into the fold, every momentous milestone merits a lavish tribute in the form of cake. We raise our forks in honour of life's grand adventures!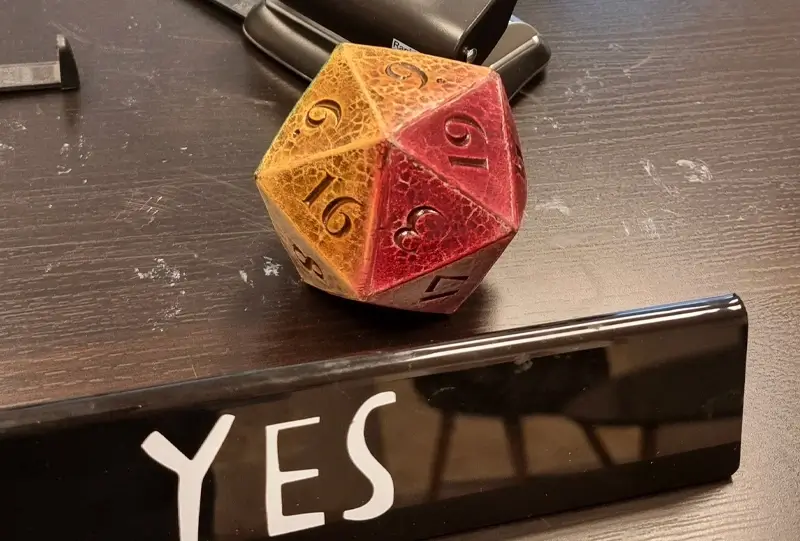 Epic Dice
We not only sell the giant D20 dice but also engage in their spirited use within our very own office battlegrounds! Brave souls who defend the giant D20 for a full five days shall emerge victorious, claiming the coveted prize as their own. This epic contest transcends departmental barriers, uniting us in a thrilling pursuit that sees warriors from all realms vying for triumph and glory!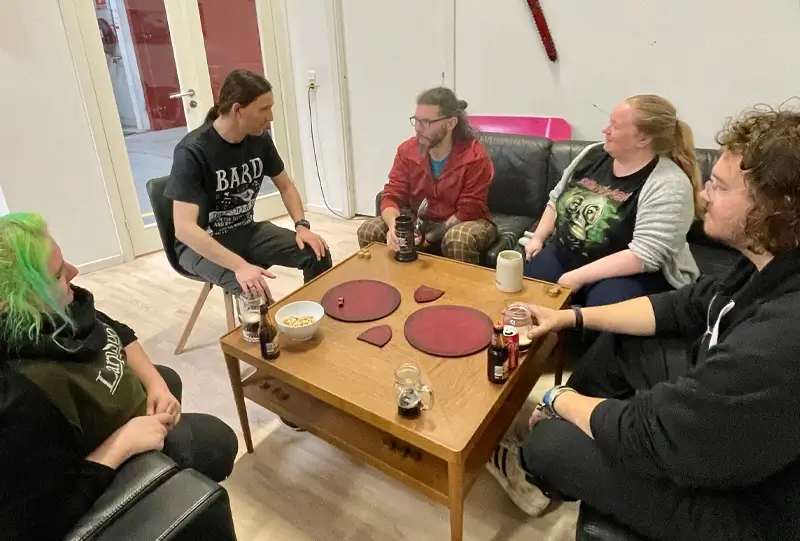 Frivolous Fridays and Shadow Shield
On the last Friday of the month we gather to have a drink and cast off the weariness of our toils. We also seize this chance to engage in a legendary game known as Shadow Shield, a game conceived by one amongst our very own ranks. Together, we revel in camaraderie, forging lasting bonds as we test our mettle.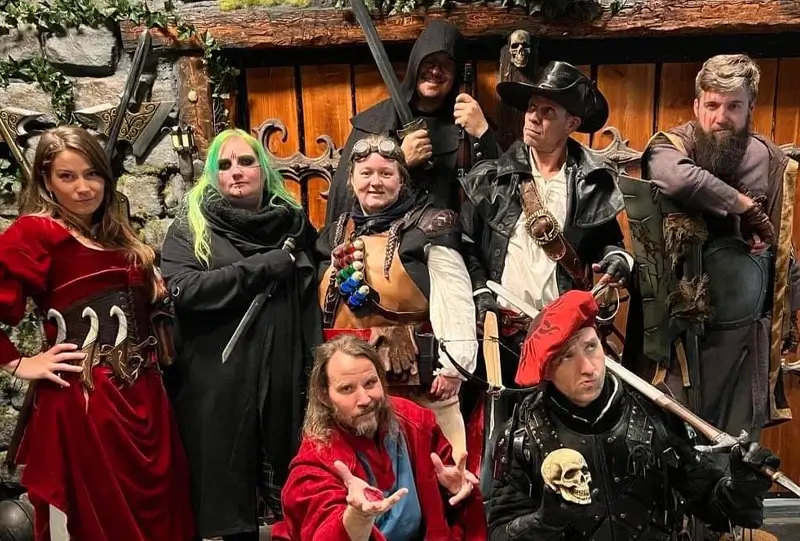 Company outings
On the momentous occasions of extraordinary geeky events, we assemble our valiant cohort to embark on exhilarating escapades, allowing us to revel in merriment and camaraderie beyond the confines of our daily endeavours. Seizing these rare opportunities, we don our most magnificent garb, transforming into fantastical beings for occasions such as the much-anticipated Dungeons & Dragons cinematic masterpiece!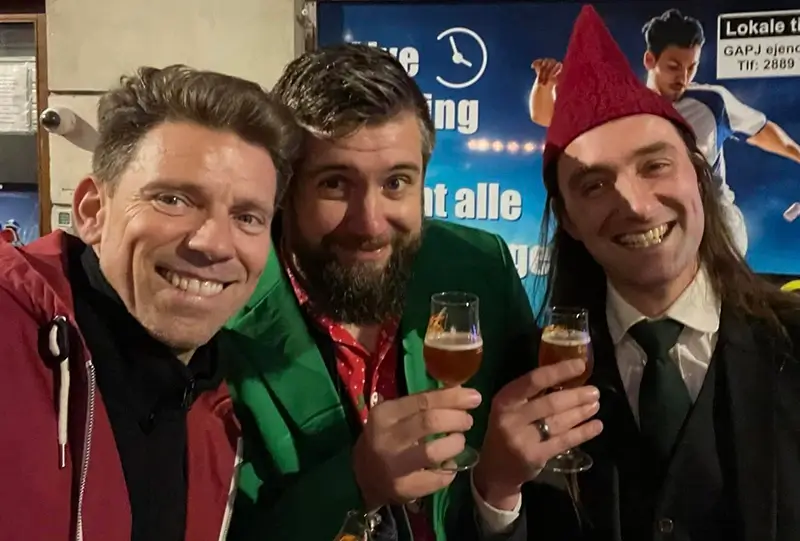 Holidays and celebrations
We like to embrace the spirit of holidays and festive traditions, such as Halloween, Yuletide, and Saint Patrick's Day. Our team relishes the opportunity to unwind and bond during these festive occasions, often venturing out for a drink or a meal together. It's not uncommon to find us donning Halloween costumes, leprechaun hats, or even rocking those infamous ugly Christmas sweaters, hoping not to get Whammed!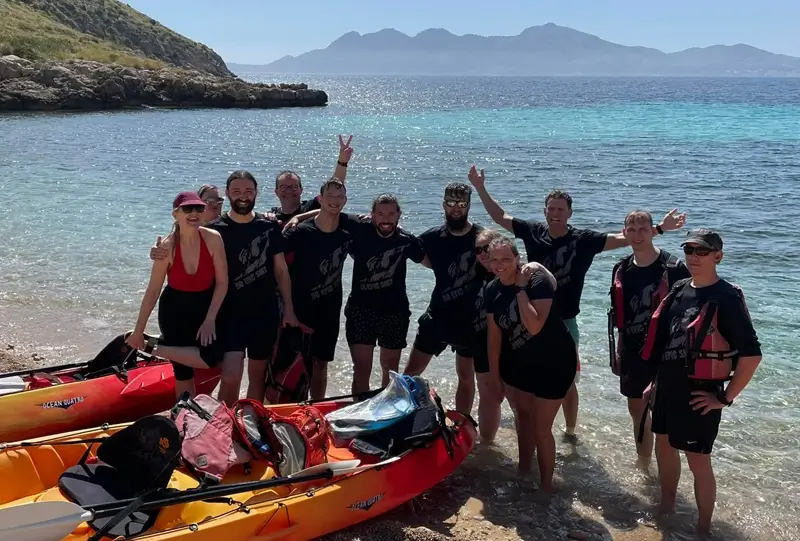 Mallorca
The Iron Fortress team recently enjoyed a fun and laid-back company trip to Mallorca, as a way to reconnect and celebrate overcoming the tough isolation period brought on by COVID-19. It was a chance for all of us to see each other in person, and we made the most of it! We engaged in team sports, explored the beautiful sights of Mallorca, and spent quality time bonding with our colleagues. The trip served as a great reminder of the camaraderie and teamwork that define our company culture, as we returned to work re-energized and ready to face new adventures.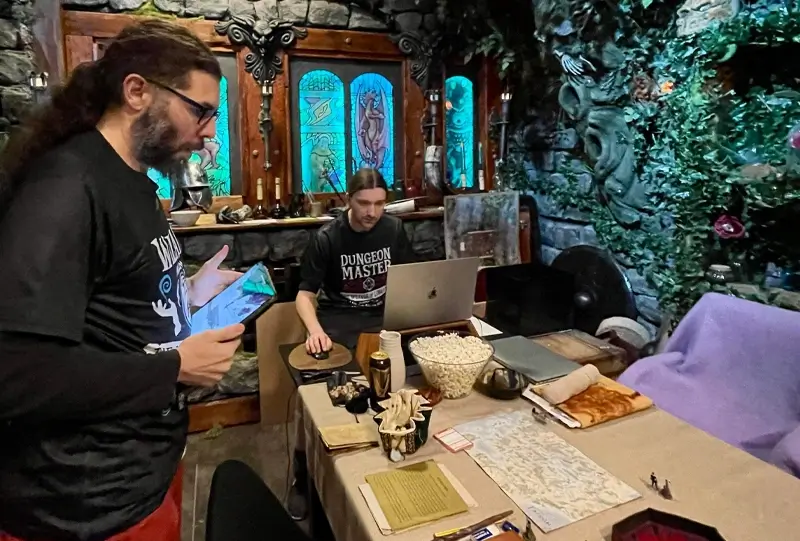 Ferd Friday
In the mystical realm of Faerûn, a grand assembly of intrepid adventurers convenes once a month, embarking on an epic journey through the vast expanses of the Dungeons & Dragons universe. Armed with tantalising snacks, invigorating libations, and a vividly immersive dungeon setting, we indulge in a thrilling escapade, weaving together the tapestry of our shared story through ingenious problem-solving and spontaneous comedic wit. Join us and be part of a legendary tale that transcends the ordinary!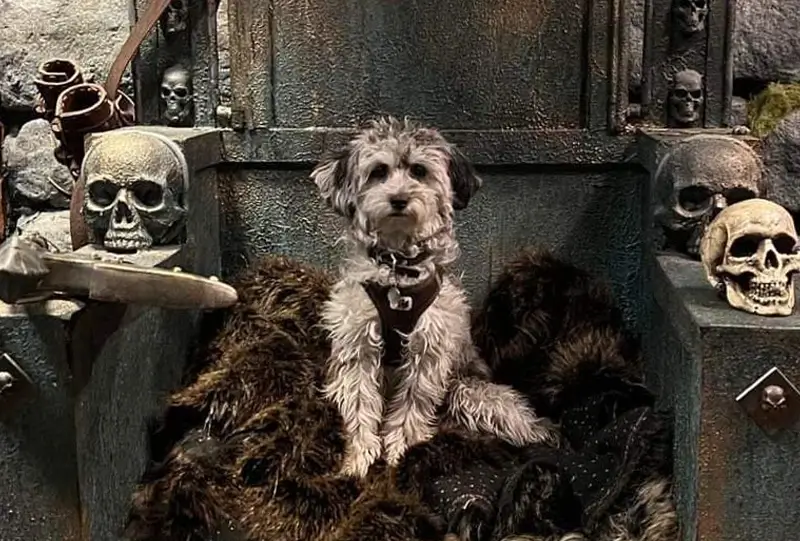 Kona
Kona, the valiant canine companion of our CEO, occasionally bestows upon us the honour of her delightful company. This enchanting, fluffy guardian brings boundless joy, effortlessly conjuring smiles on the faces of all who cross her path.
René Vendt (CEO)
Chieftain Epic Overlord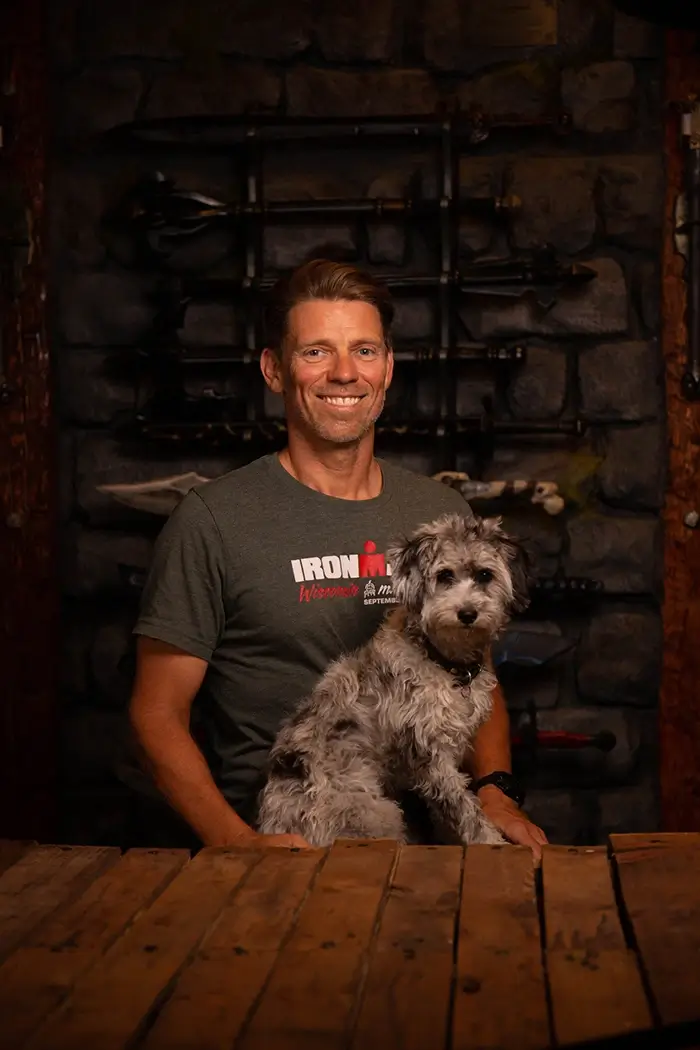 As co-founder and Chieftain Epic Overlord (CEO) of Iron Fortress, René has immersed himself in LARPing and DnD since 1991. Launching five Dragons Lair hobby shops in Denmark from 1996 to 2004, he founded Iron Fortress in 2008 to create affordable, high-quality LARP gear. A devoted family man and fitness enthusiast, he relishes roleplaying, swimming, biking, running, and golfing.
Jais Lindquist
Warehouse Manager
Jais Lindquist, a dedicated individual, has served as the Warehouse Manager for Epic Armoury and Iron Fortress since 2011. With meticulous attention to detail, Jais ensures the seamless operation of the warehouse, striving to deliver impeccable service. From handling small orders dispatched via couriers to managing large orders in 40ft containers, efficiency remains paramount. Beyond work, Jais finds solace in the joys of cruising and exquisite cuisine.
Emil Lynge (CTO)
Coding Thaumaturge Overseer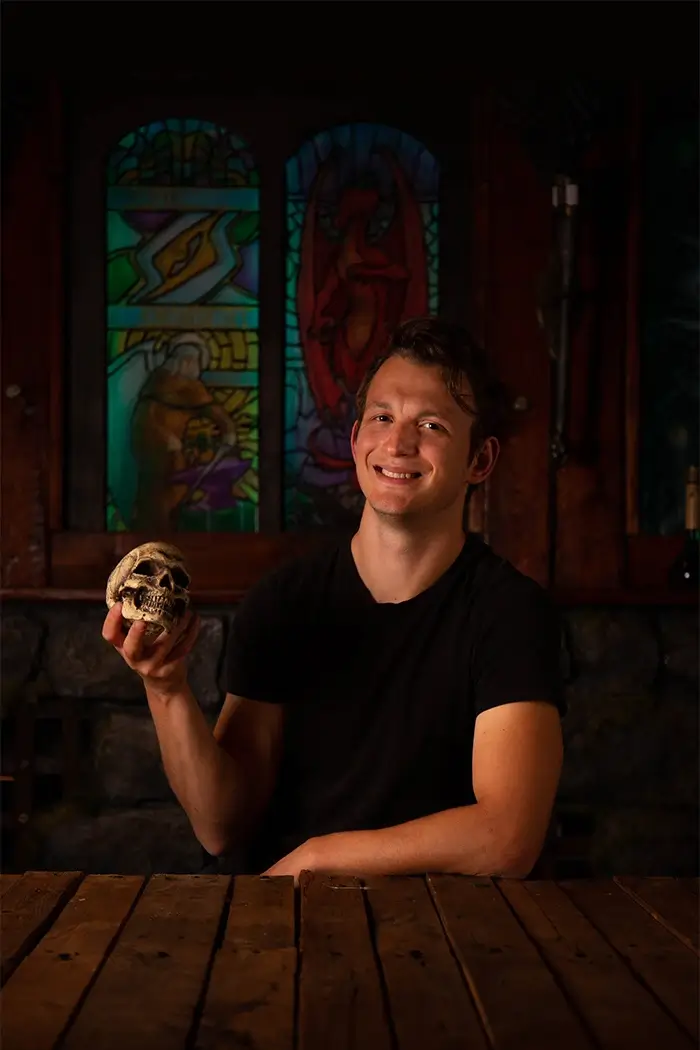 Emil is a nature enthusiast who enjoys tending to his garden and revelling in its beauty. Climbing challenges him both physically and mentally, fueling his spirit of adventure. When he's not immersed in nature, Emil expresses his creativity by playing the piano and diving deep into the realm of technology on his trusty computer. Engaged and married in 2023, Emil embarks on a journey of love and shared experiences. Dogs also hold a special place in his heart. Lastly, Emil enjoys harnessing the power of ChatGPT to craft self-descriptions, honing his ability to express himself.
Brian Holte
Customer relations & Purchase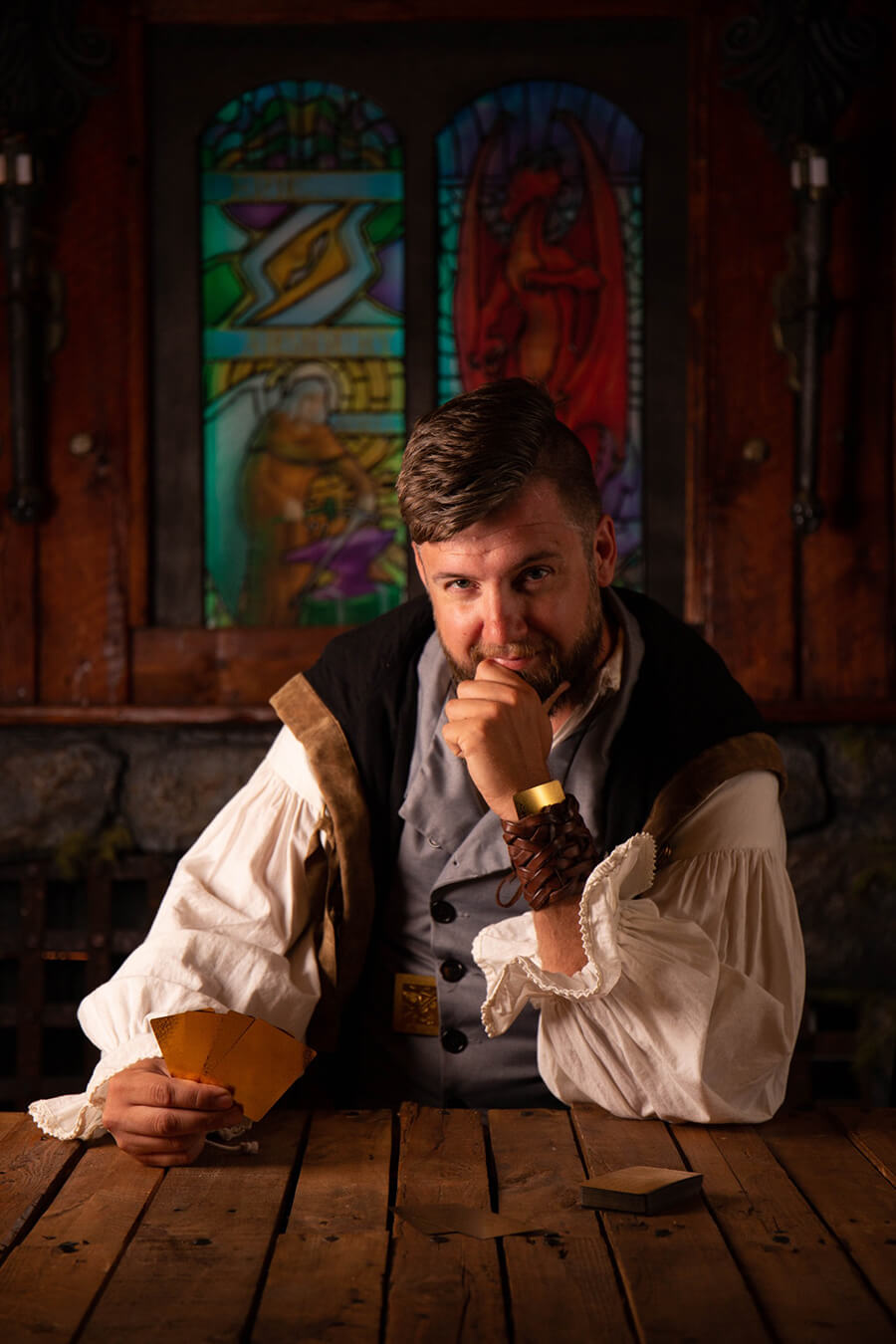 Brian Holte is an experienced LARPer, cultivated his expertise in the field, eventually transitioning to a professional role. Since 2009, Brian has been dedicated to the LARP community, spending 9 years as a successful LARP shop manager. Currently, he contributes to the vibrant atmosphere of Iron Fortress as a dedicated merchant. Outside of work, Brian enjoys quality time with his girlfriend and two sons. His leisure activities include immersing himself in LARP and DND adventures or pushing his limits in triathlons, fueled by the ambition to achieve the Ironman title.
Gabriele Stazi
Head of Development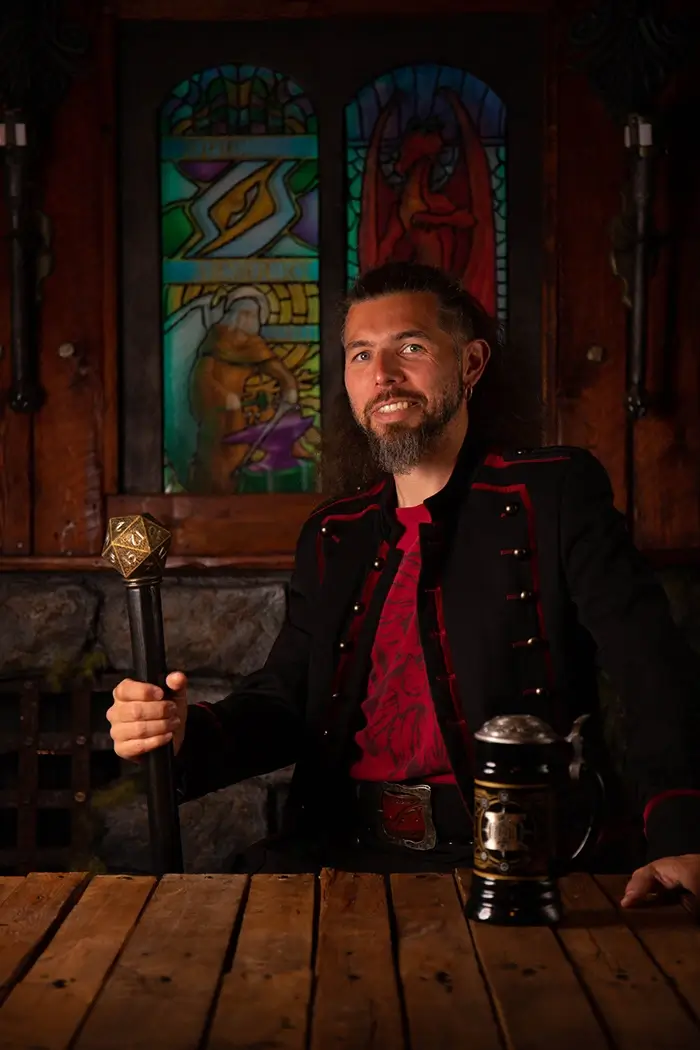 Gabriele is our costume designer, excelling in leatherworking and fantasy armours. His film industry experience includes projects like 'Pirates of the Caribbean' and 'Ben-Hur'. Gabriele is also a passionate LARPer, roleplayer and videogamer. When he isn't immersed in creating movie-worthy costumes he cherishes the thrill of outdoor adventures. Infusing our team with creativity and positive energy, Gabriele's leadership skills and talent for maintaining high team morale are crucial, propelling us to achieve great things together.
Tiim Välimaa
Senior Design & Product Developer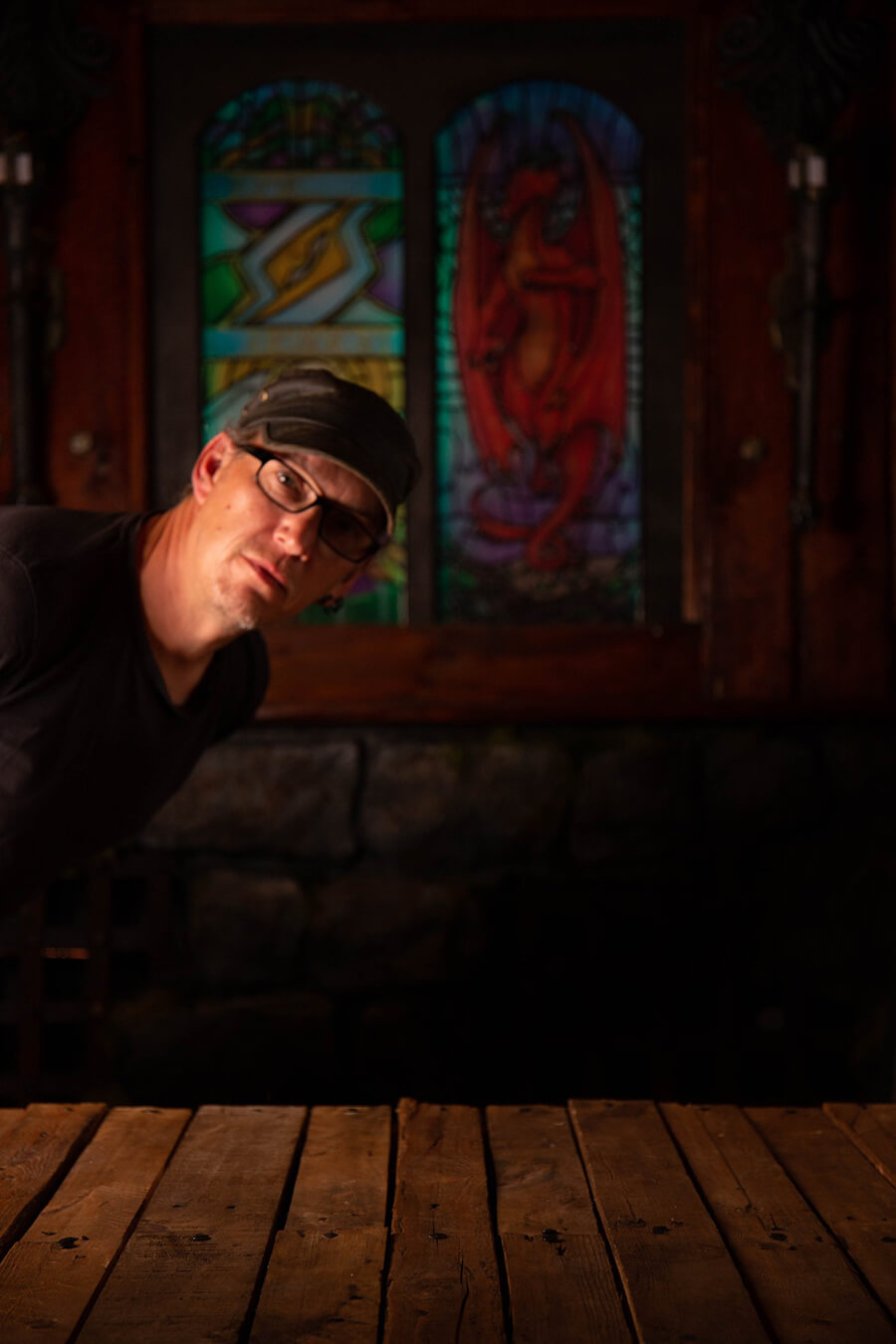 Tiim Valimaa, a seasoned product designer, has been an integral part of Iron Fortress since its inception. With over 20 years of experience in product design, Tiim brings a wealth of expertise to the team. When not contributing his creative talents at Iron Fortress, he finds solace in his hobbies. Tiim enjoys the tranquillity of fishing, casting his line into serene waters. Additionally, he finds joy in sailing, navigating the open seas aboard his boat, and embracing the freedom that comes with the wind and waves.
Julie Holm
Design & Product Development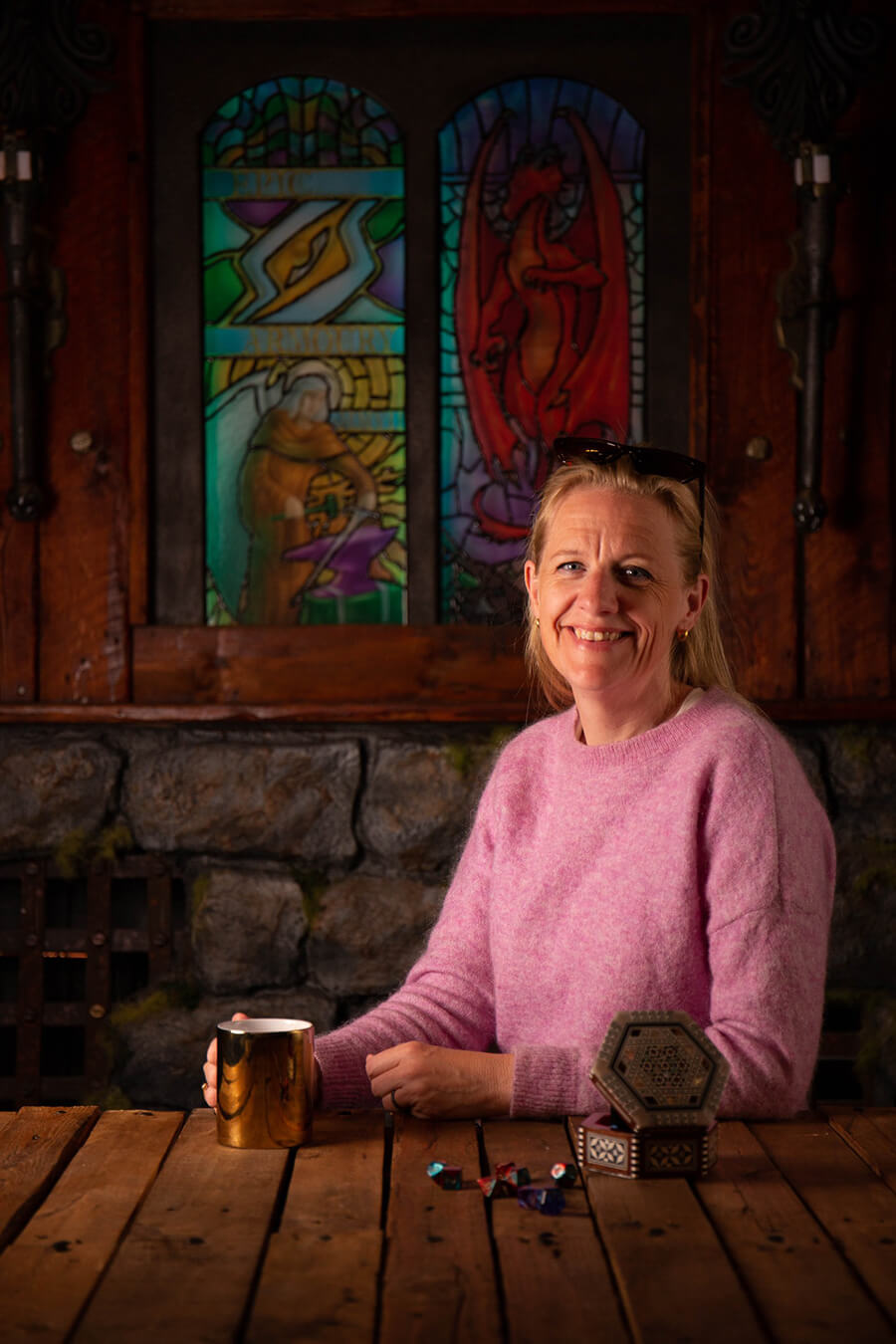 Julie, the radiant designer, brings a spark of magic to the office. With her boundless imagination and innovative spirit, she crafts captivating clothing and accessories. Collaborating with the team, she brings characters to life and orchestrates enchanting photoshoots that unveil the doorways to our brand's unique universes. Working alongside Julie is an exhilarating adventure, as we all echo Bowie's words: "Freak out in a moonage daydream, Oh yeah!"
Francesca Trani
Textile Development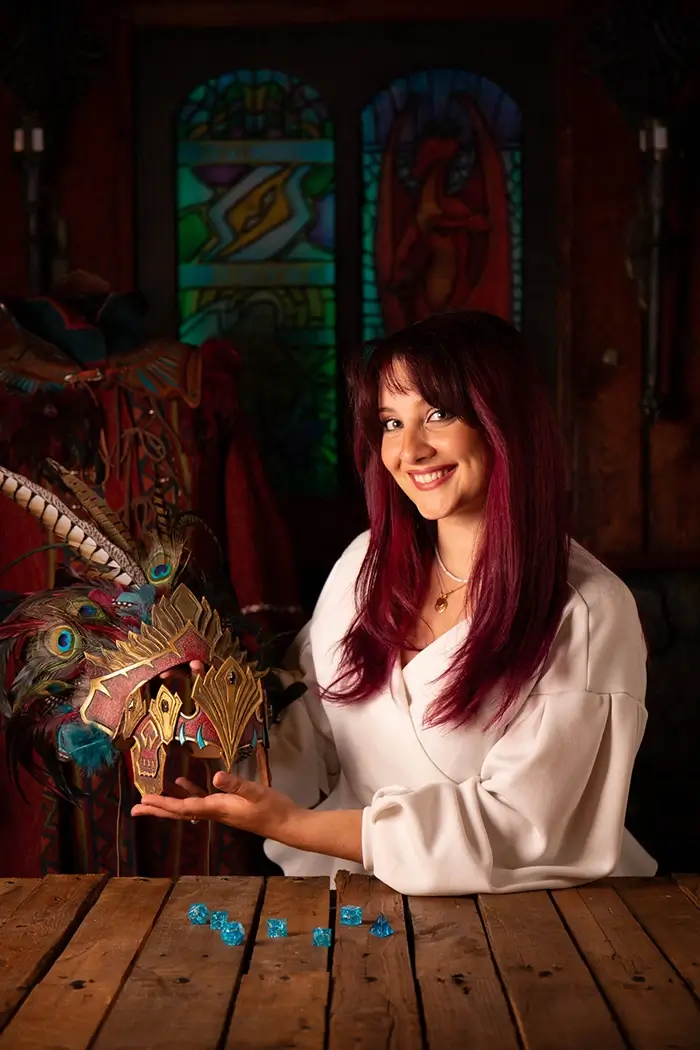 Francesca is an Italian costume designer and product developer. She joined the Iron Fortress family as a Textile designer. With her enthusiasm for historical fashion, she expertly recreates and interprets styles from different eras. Her collaborations with renowned figures in the film industry showcase her exceptional talent.
Outside of her craft, Francesca enjoys culinary experiments, playing the violin, and immersing herself in tabletop games and LARP. She fosters a positive and supportive work environment, always championing the team achievements.
Tonie Jochumsen
Data Manager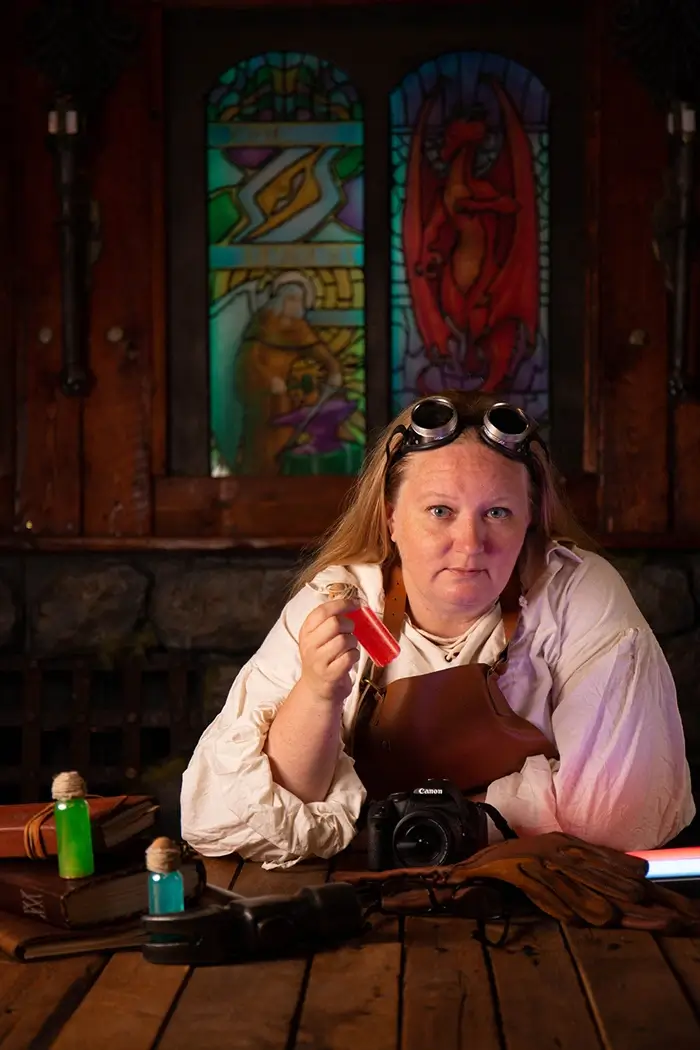 Tonie, our talented photographer, is dedicated to capturing stunning images that transport viewers into a world of adventure. With her keen organisational skills, she efficiently manages the PIM system, guaranteeing accurate and up-to-date product information. Tonie's innate tinkering nature drives her relentless pursuit of improved procedures and exceptional visuals. During her free time, Tonie enjoys quality moments with her boyfriend, LEGO building, video games, D&D campaigns, as well as the excitement of flying drones and kites. Her diverse passions and expertise make her an invaluable asset to the company.
Jonas Mortensen
Web Development
Meet Jonas, our empathy-fueled web developer, always ready for a growth spurt! With optimism as his compass, no challenge is too daunting for him. He's all about team quests, bonding over brain-tickling chats, and making friends along the way. Forever hunting for new and sparkling digital treasures, Jonas is our unstoppable explorer in the wild, ever-changing jungle of web development!
Mick Hart
Marketing Officer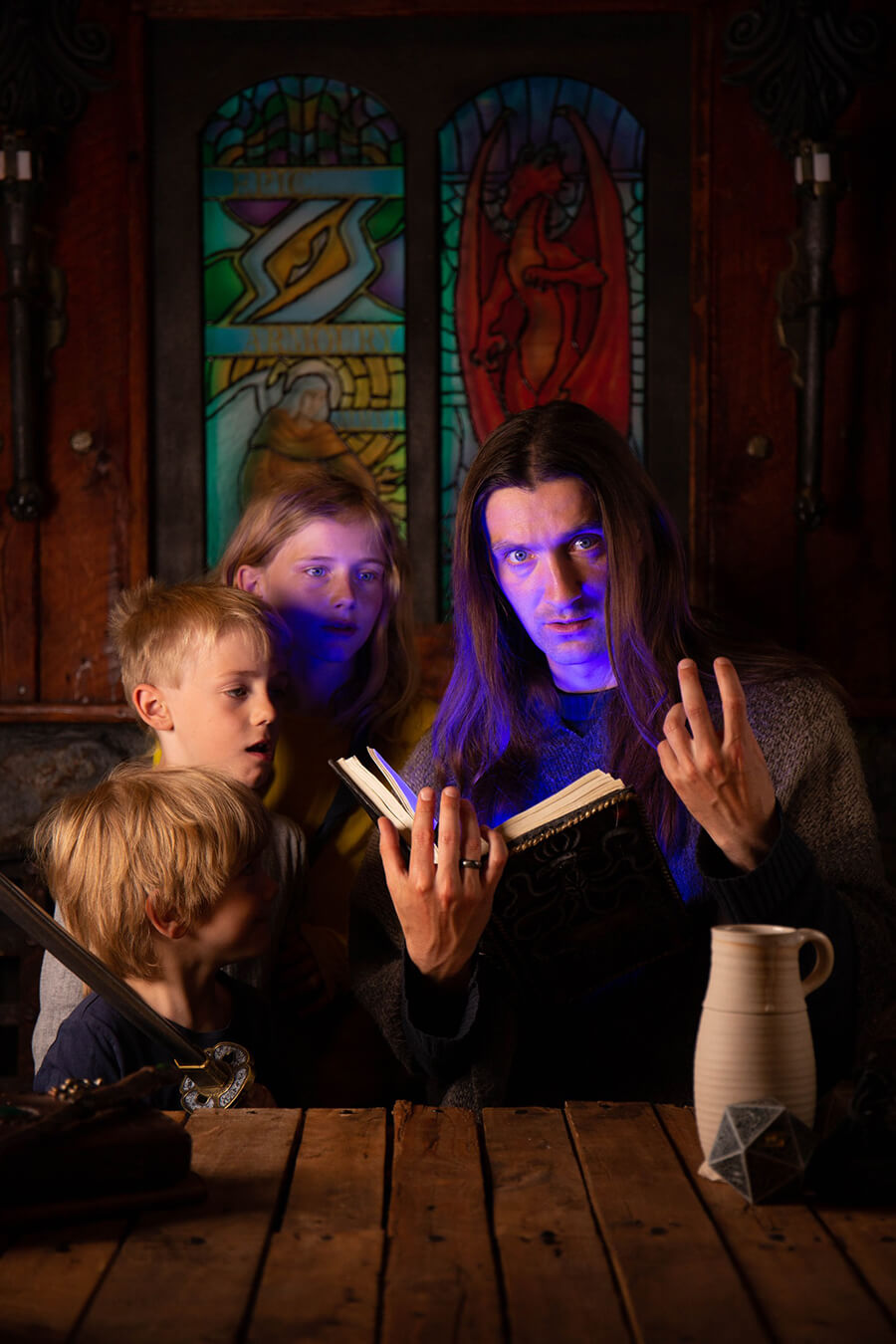 With an academic background in Psychology and Health Promotion (BSc), Forest and Nature Management (MSc) and lifelong experience with storytelling, amateur theatre and roleplaying, Mick serves as the Digital Druid, Bodacious Bard, Content Creator and Marketing Monger of the Iron Fortress. The tip of his quill is sharp as the puns and ambiguities spun from his silver tongue. When not playing his part as a colleague, husband and father or retreating to the tranquil wilderness for ambedo, he is more than willing to exchange tall tales over a stein of sturdy stout. For the world is made of stuff and stories – unless you look closer!
Lisa Wolfrum
Content Creator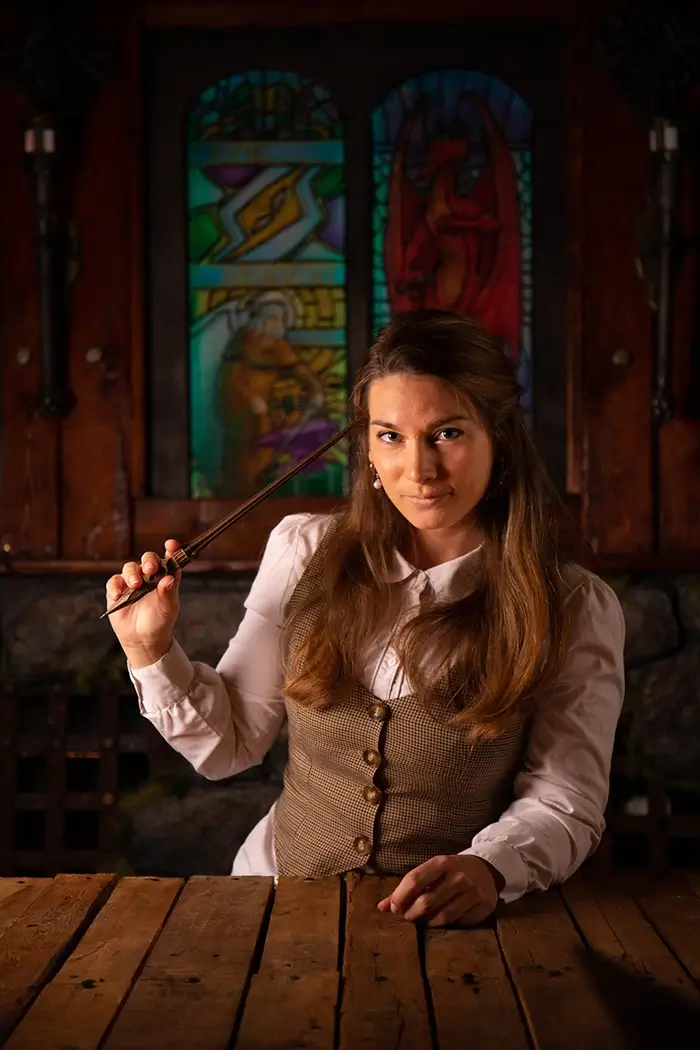 In the enchanting realm of Iron Fortress, Lisa weaves her magic as a Content Creato. Armed with her creativity, she has many years of experience in visual storytelling for diverse audiences. Fluent in the tongues of many lands, Lisa's expertise spans the realms of tourism, event management, historical heritage, graphic design, and costuming. A passionate LARPer she started her LARP career at Dziobak larp Studios and now also runs her own non-profit LARP organization.
Michael Vagn Hansen
B2C Support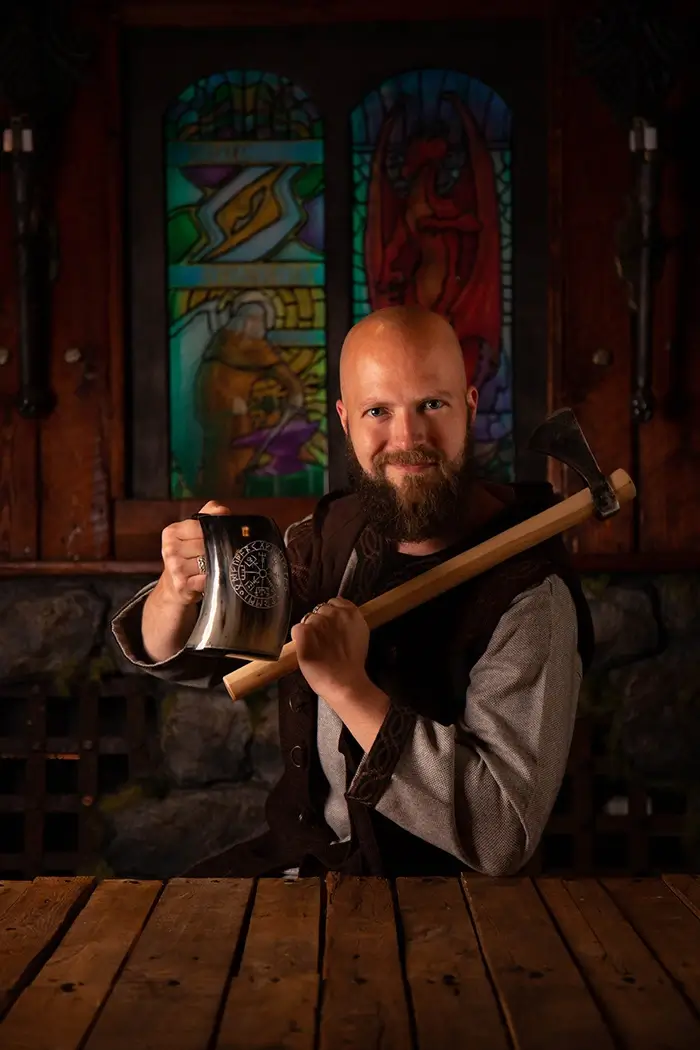 Meet Michael, our in-house Viking enthusiast with a passion for theatre. He shines on stage, often embodying fierce Viking characters. Beyond the spotlight, Michael is a devoted family man, cherishing precious moments with his young son and fierce wife. When not treading the boards or building family memories, he raises a Viking horn filled with mead, toasting to adventure and embracing the spirit of the ancient warriors. Skål!
Natasha Kronkvist
B2B Support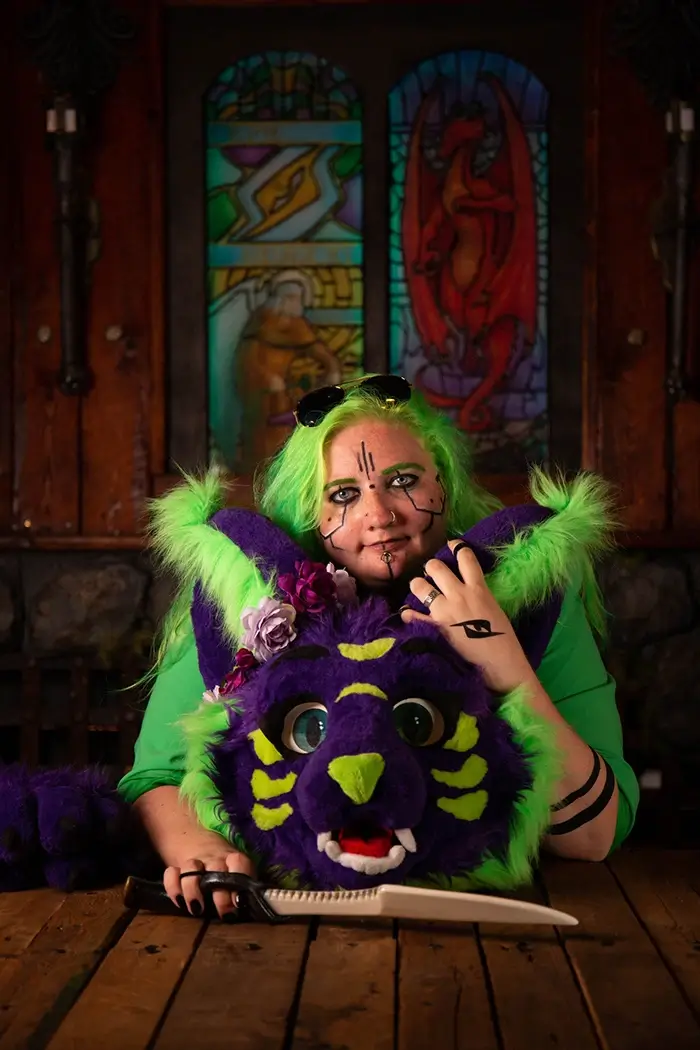 Natasha is a reader, a gamer, and a dreamer, exploring endless worlds through webtoons and Dungeons and Dragons. She also has a fursona called Lakridz. Together with her husband and their regal feline Magnus the Great, they found solace in their quiet life. But when magic comes knocking, they can't help but answer the call.
Ira Sapozhnikova
Packing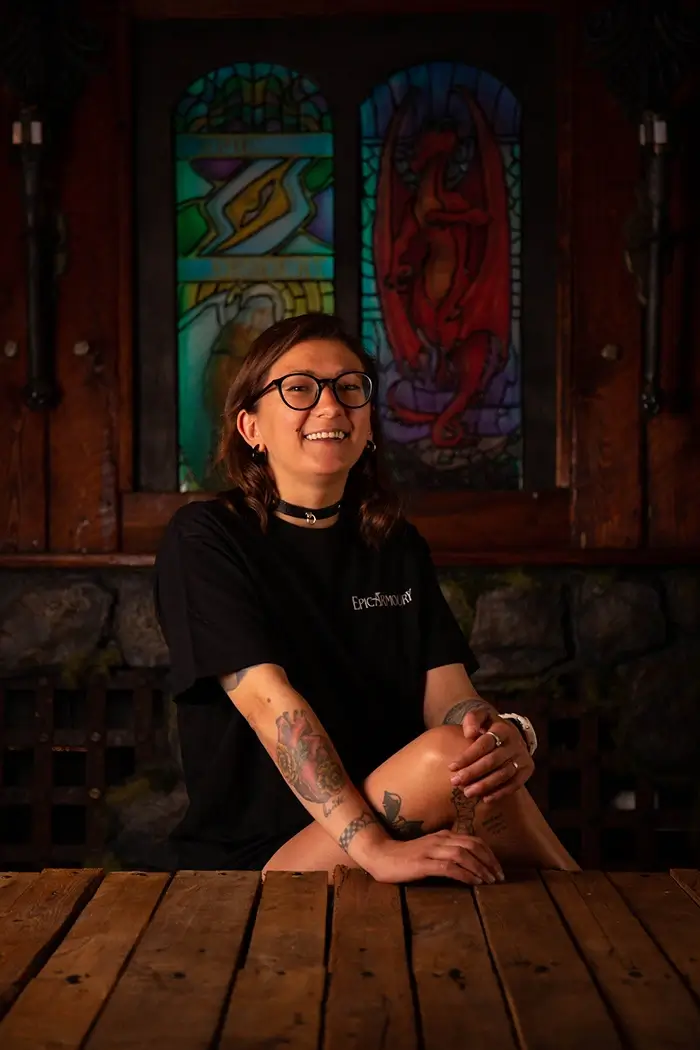 Ira is from Ukraine - so she really loves weapons, equipment, independence and black humour. When she's not immersed in her work, Ira devotes her time to personal growth, nurturing her soul, and fostering meaningful connections with her loved ones. She is happy, and she wishes the same joy and contentment for everyone she encounters.
Jakob Rasmusen
Packing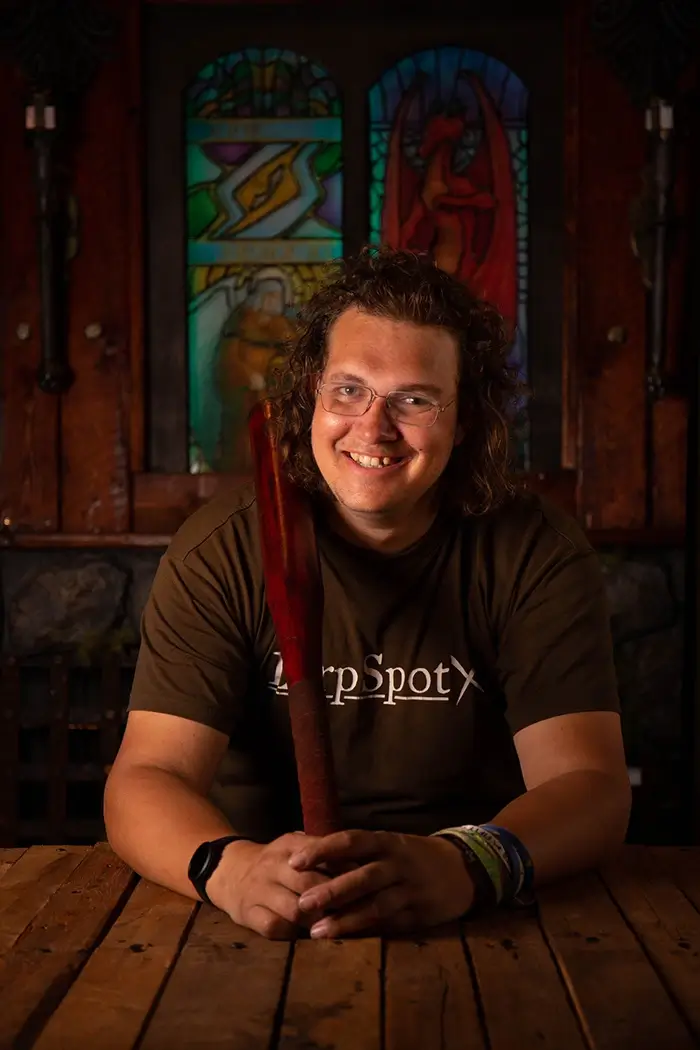 Jakob is our endearing BFG (Big Friendly Giant), always ready with a warm hug and a giant's appetite. Famous for his goblin-tossing skills, his love for cake, and his penchant for snoozing, Jakob's jovial nature keeps the company's spirits high.
Annette Prehn
Master Of Coin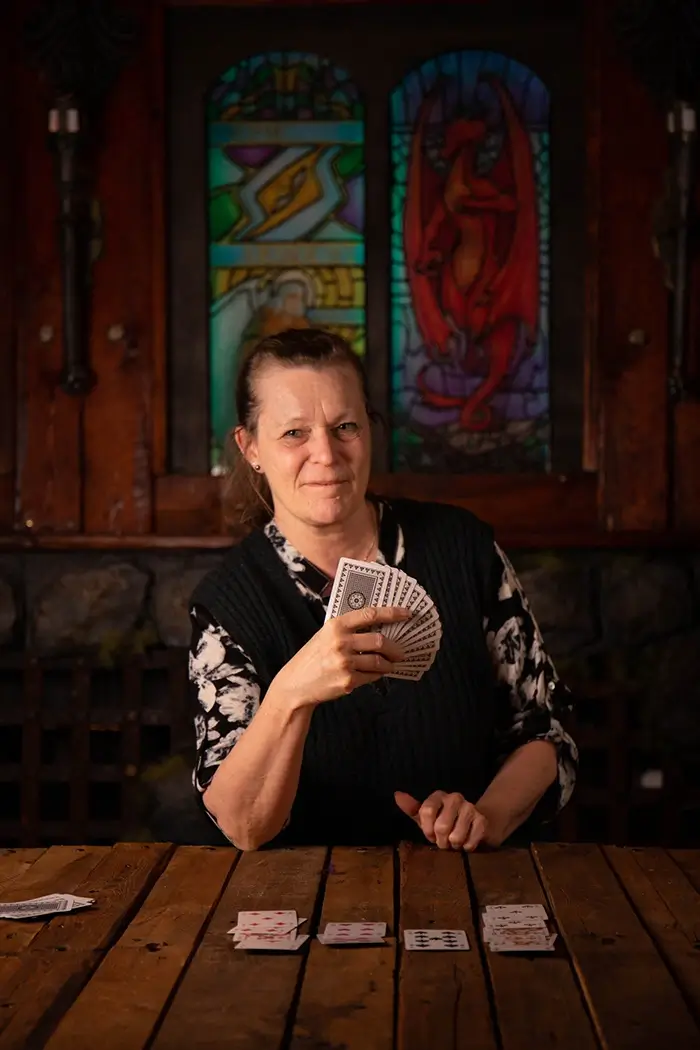 With almost four decades as an adventuring accountant, Annette is the Master of Coin at Iron Fortress. Her past journey has taken her counting eyes through several other business sectors, such as food production, entertainment and sports, but her passion for Contract Bridge exceeds everything else. All our finances are well managed under her meticulous management – of course, she could be bluffing!
Thomas Kirknel
Co-owner & Board of Directors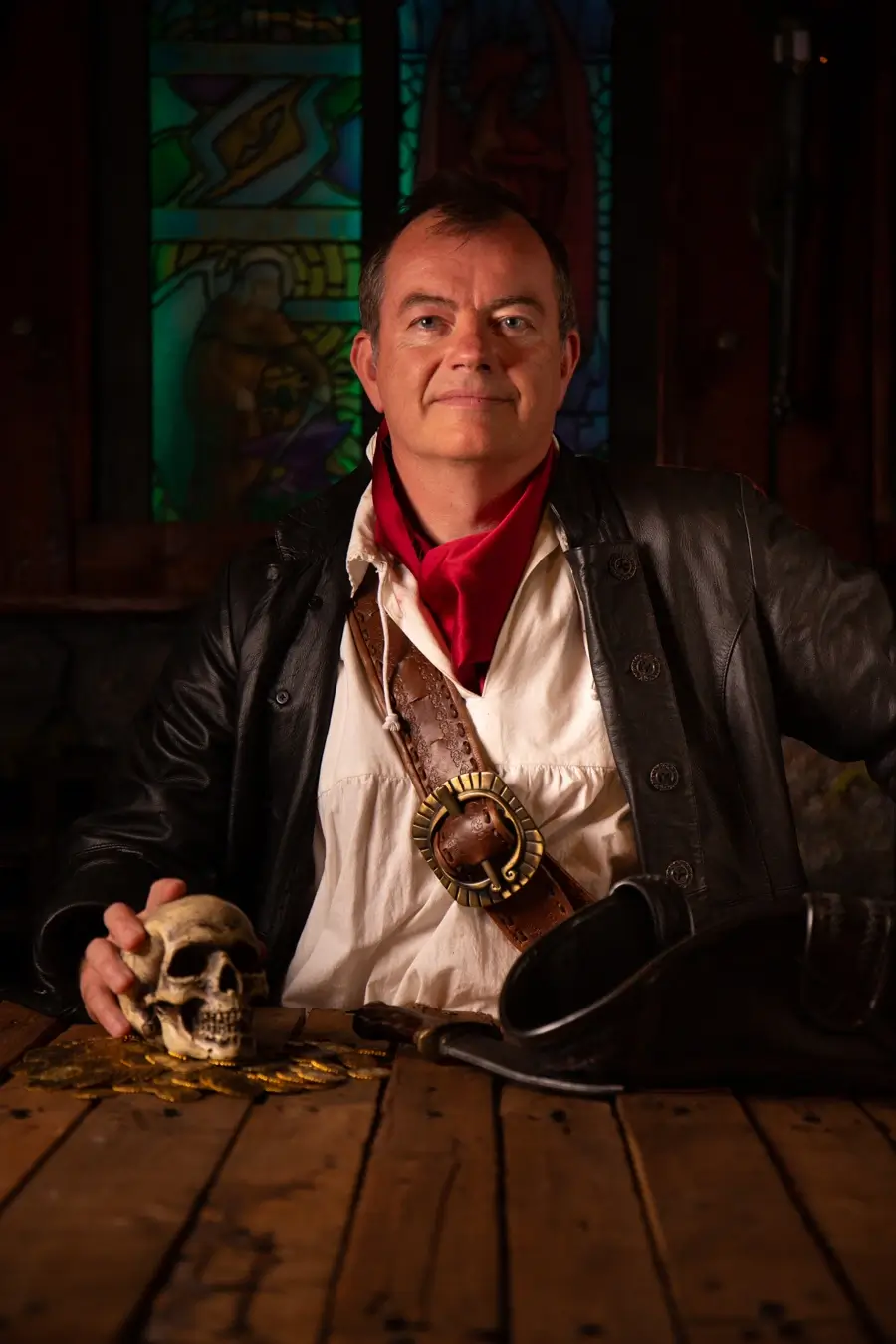 Thomas is Co-founder and chief strategist of Iron Fortress. Way back Thomas was one of the early partners and Chairman of the hobby shop Faraos Cigarer and co-founder and CEO of RPG distributor Midgaard Distribution. Also, investor in IT company Avenida as board member and medical company Prodipp as CEO and Co-founder of IT company IP-First as CEO. Currently his full-time work is with IT.
Ejner Kristensen
Board of Directors
As the most tenured member of the Fortress team, Ejner holds the esteemed position of Chairman of the Advisory Board (AB). His primary role is to ensure that the management and owners remain focused on the Iron Fortress's vision, strategic objectives, and, crucially, its core values. In essence, he guides us to maintain a "400 feet" perspective in our thinking and actions.
With an MBA and a history as the CEO of three diverse companies, Ejner is well-positioned to contribute significant value to Iron Fortress's continued positive trajectory.
In addition to his corporate experience, Ejner brings a unique perspective from his time as a Lieutenant Colonel in the Danish Air Force reserve.
Kim Frederiksen
Web Development