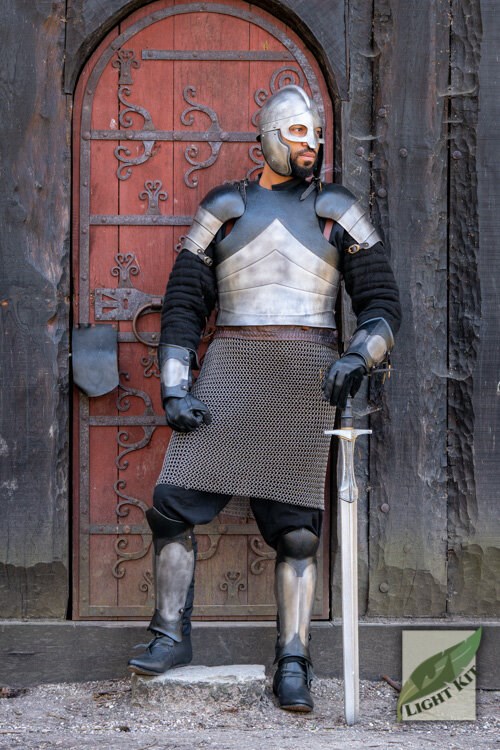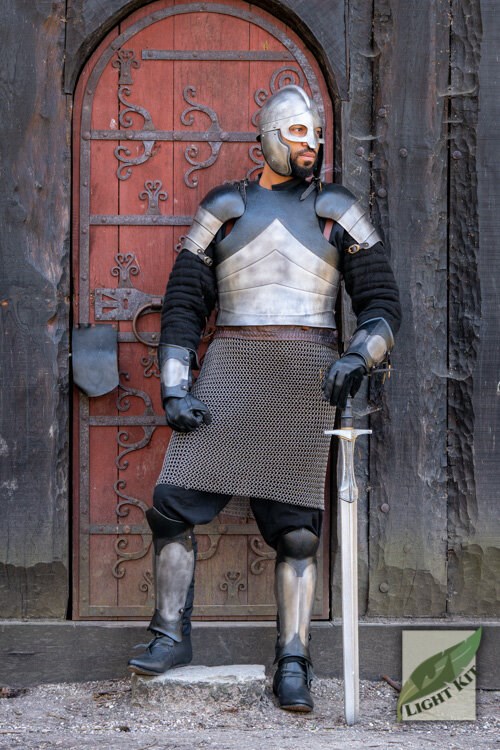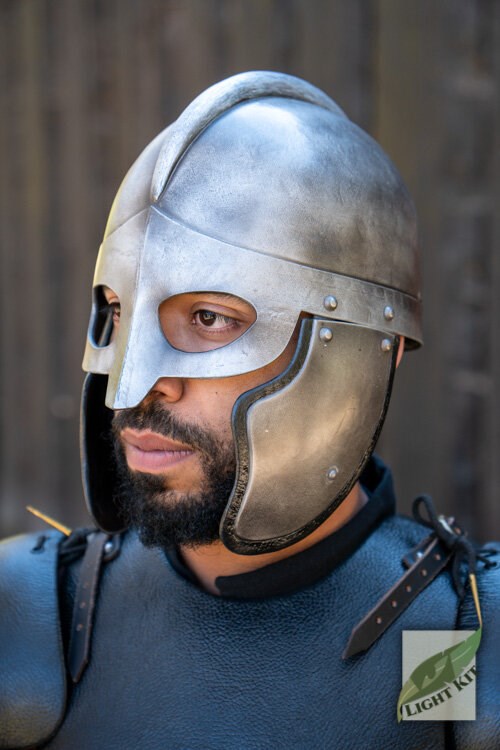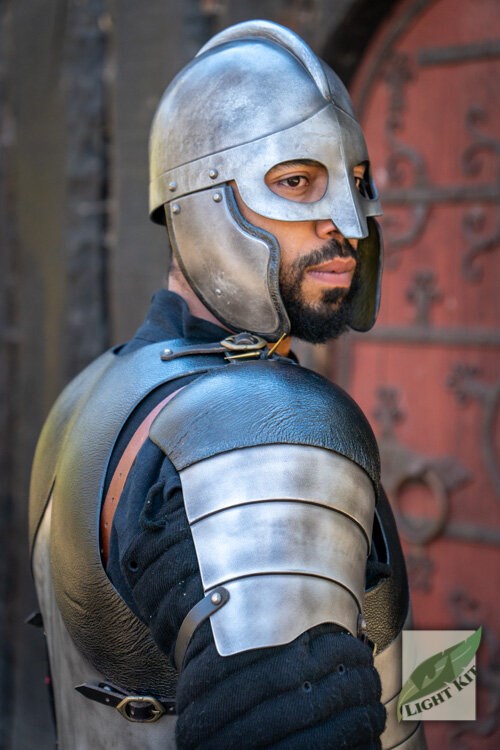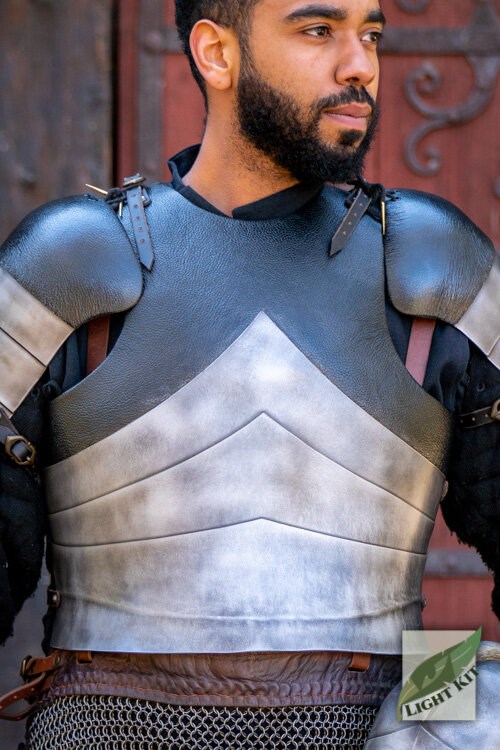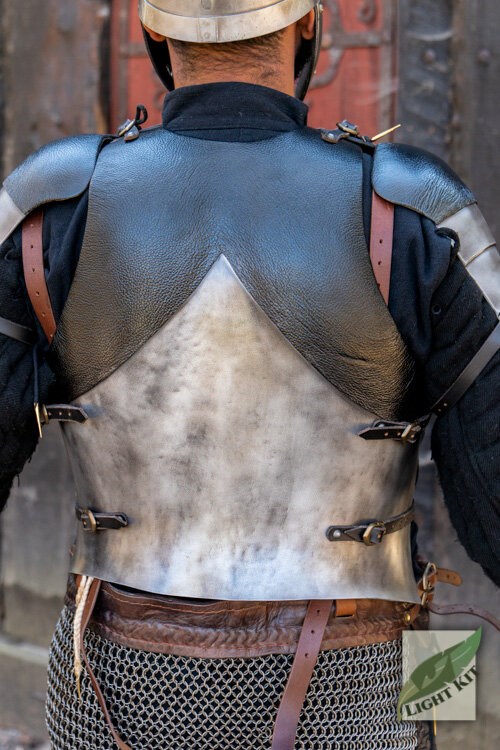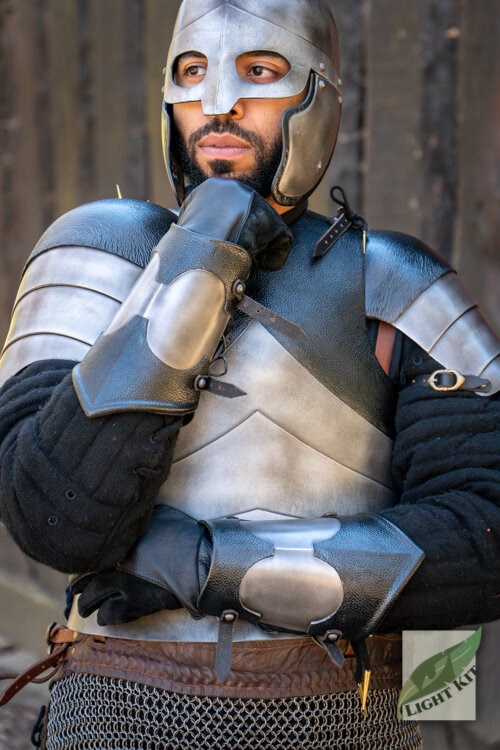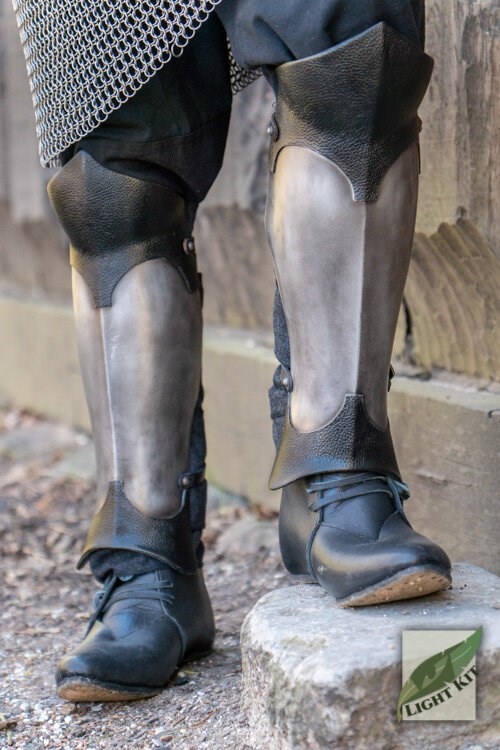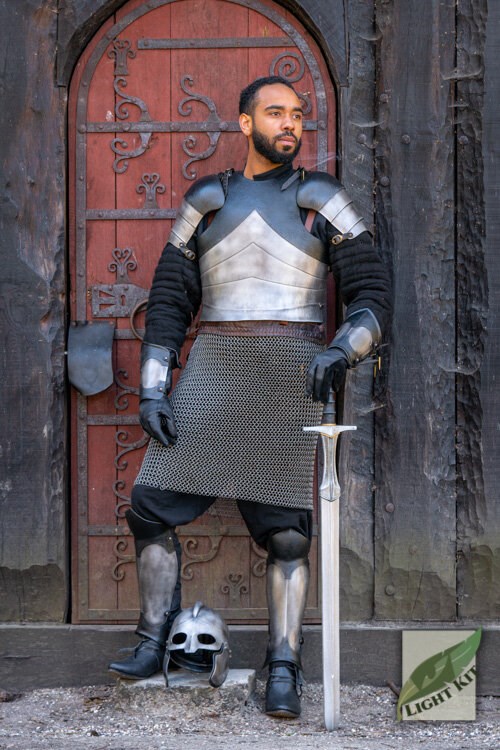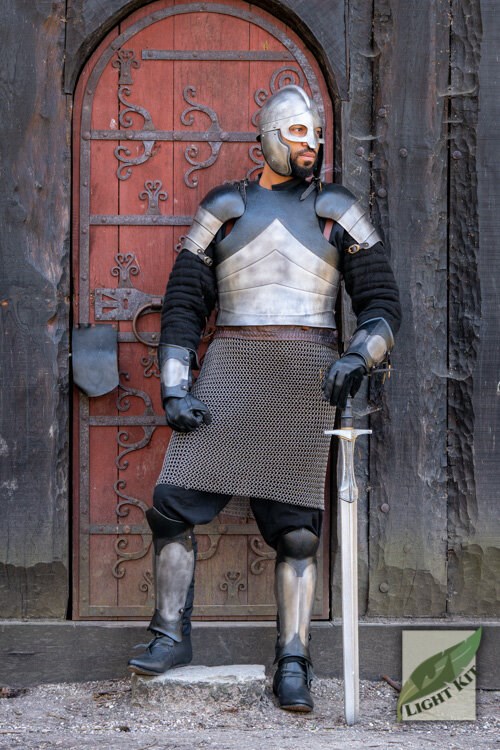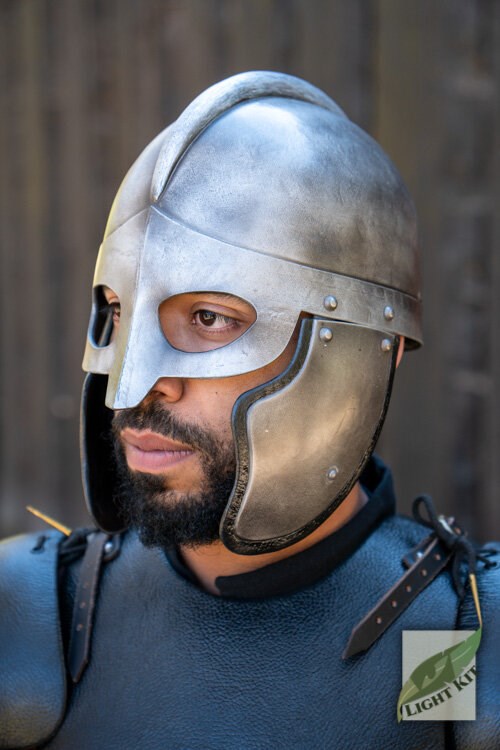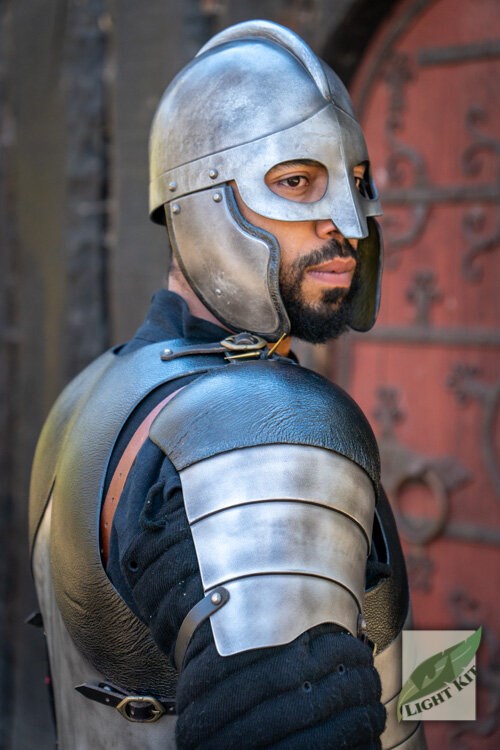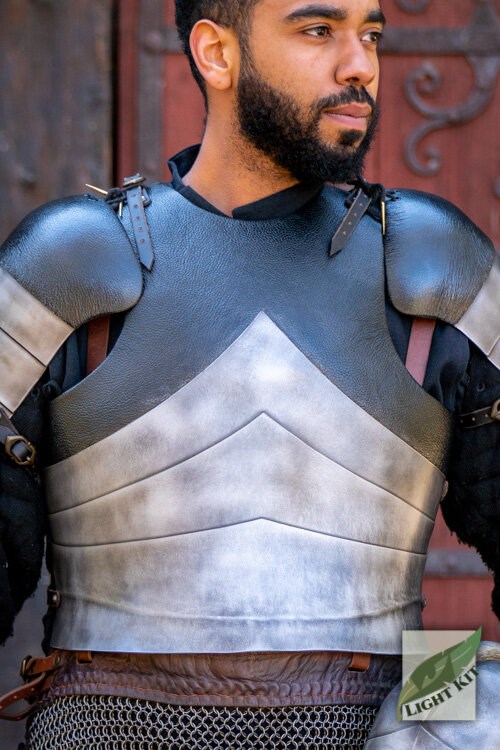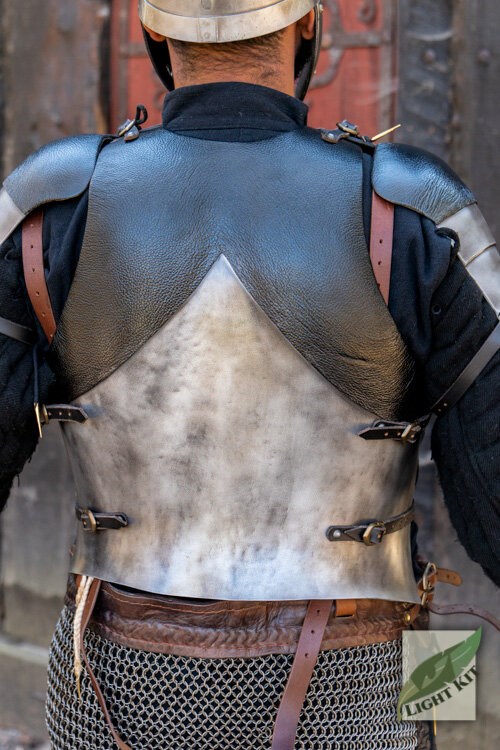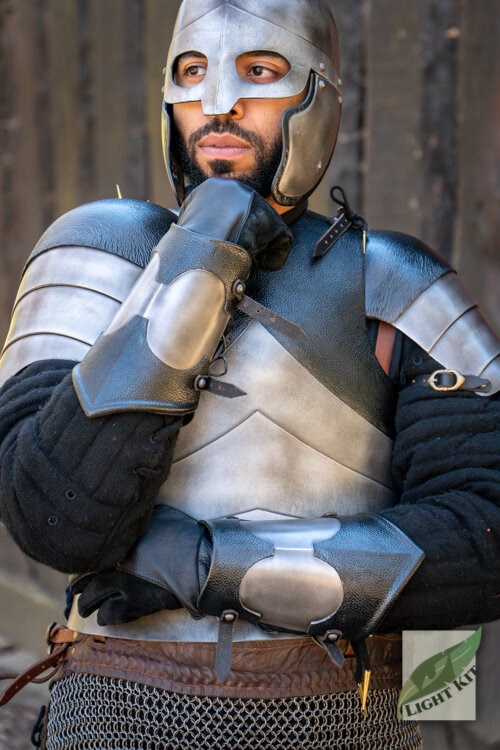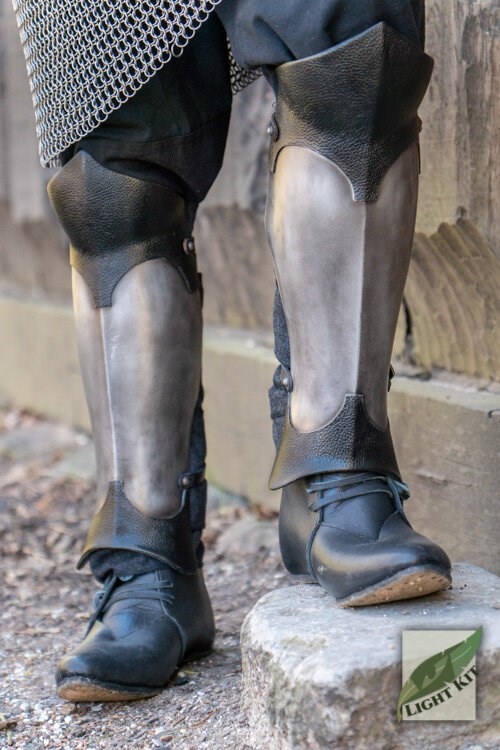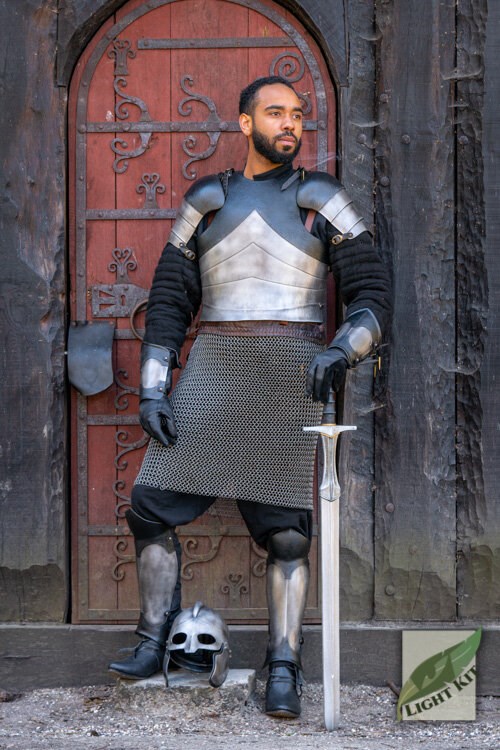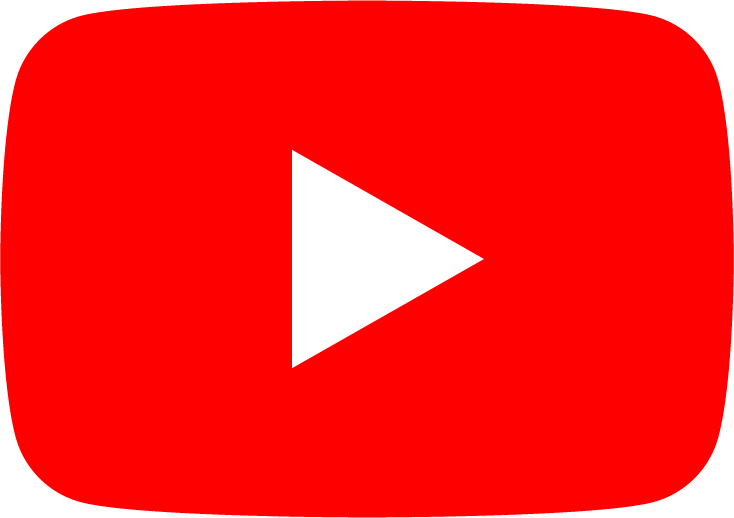 Outrider Armour Set
SKU: Choose variant, Old SKU: Choose variant
SKU: {{chosenVariant.variantSku}}{{chosenVariant.oldVariantSku ? (', Old SKU: ' + chosenVariant.oldVariantSku) : '' }}
Light Kit, Defiant
In Stock
Available
(choose variant)
LOG IN to see prices and add to your cart
Description

Quality

Technical Details
There is no way of knowing how the battle will go until it is fought.
The Outrider Complete polyurethane armour set from Epic Armoury is all about comfort and efficiency in combat. To conquer your enemies, you need armor to increase your character's proficiency in combat, and this armor will not disappoint. This hybrid plate armour combines black leather and steel, creating a unique fantasy armor that can be worn for hours. This larp armor looks authentic, and it will not rust or rot like traditional medieval armor. This Kit includes a helmet, cuirass, shoulders, bracers and greaves that are adjustable and easy to maintain. Polyurethane foam armor is resilient in the heat and in the cold. It is perfect for Larp, Cosplay or events where prolonged use is necessary and was inspired by the horse lords and nordic warriors.
Outrider Armour Set
Helmet
Full Height: 22 cm
Width: 18 cm
Inside Circ: 59 cm
Torso
Back Length: 48 cm
Front Length: 49 cm
Neck Width: 16 cm
Chest Width: 61 cm
Waist Width: 55 cm
Armhole Width: 22 cm
Back Chest Width: 62 cm
Back Waist Width: 51 cm
Pauldrons
Upper Arm Length: 28cm
Upper Arm Top Width: 20 cm
Vambraces
Full Length: 21 cm
Forearm Top Width: 14 cm
Forearm Bottom Width: 13 cm
Greaves
Full Length: 43 cm
Shin Top Width: 12 cm
Shin Bottom Width: 12 cm
Made from polyurethane
Leather straps are riveted to armour
Sturdy brass buckles for easy attiring
This product is handmade and hand-painted and therefore unique. As a result, when compared with similar item numbers, this product can have natural deviations in pattern, colour and shape, which are not considered defects or faults.
We produce our image material in a natural environment, where lighting and surroundings can affect colors and contrast. The displayed images may therefore appear different from the product you receive from us.
Measurements are all in cm if not stated otherwise.
Brand:
Light Kit
Universe:
Defiant
Position:
Full Body
Product type:
Armour Set
Maintenance
With proper care and attention, your purchase should last for many years.
Your armour is made from a polyurethane material that is very strong and will maintain its shape and form if looked after correctly.
Please be aware that although the armour is strong, it is designed to be used for costume purposes only and should not be used or relied upon for protection!
Do not leave out in the sun for long periods of time, as heat can make the polyurethane malleable to the touch.
CLEANING
Your item has been professionally finished with durable paint and polish. Inevitably, as with any painted surface, you will get scratches and wear and tear over time.
For surface soiling we recommend washing with warm soapy water and a soft cloth, avoiding leather straps.
Do NOT use any solvent-based cleaners or insect sprays on or near the armour.
Leather straps can be polished with normal shoe polish but avoid getting polish onto the armour surface.
STORAGE
Breastplates and backplates should be strapped together and ideally hung on a coat hanger or similar hanging system. Shoulders also are best stored on hangers.
Helmets should ideally be placed on a stand so that any protruding features such as nasals and ear flaps are hanging free. We have helmet stands available in our online shop if needed.
We recommend that leg armour and braces are strapped around something cylindrical when not in use; drainpipes and drinks bottles could be used for example.
Do NOT store armour on or near to a heat source as this can cause warping.