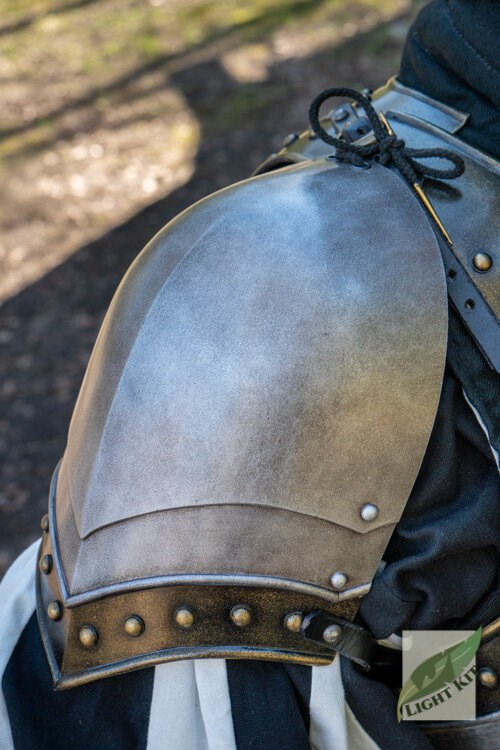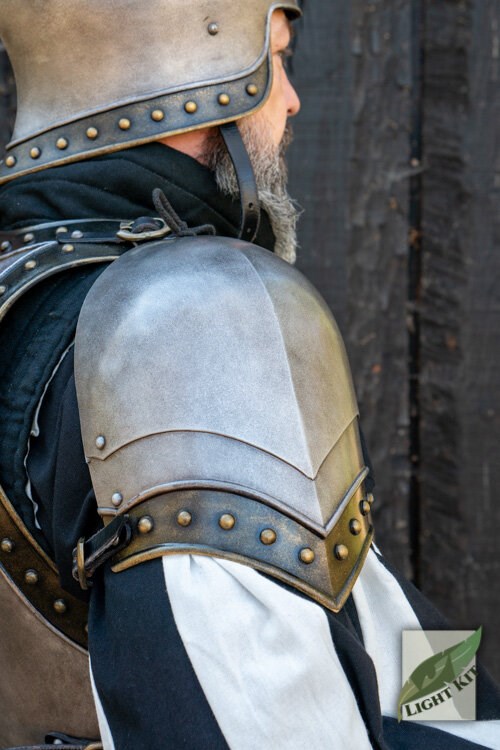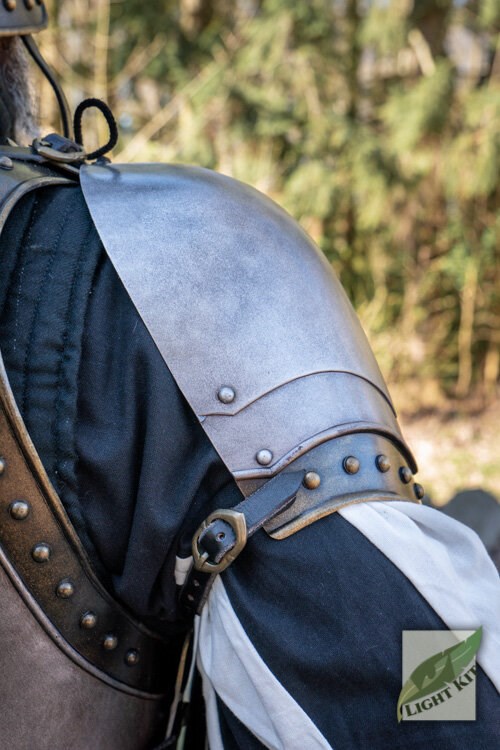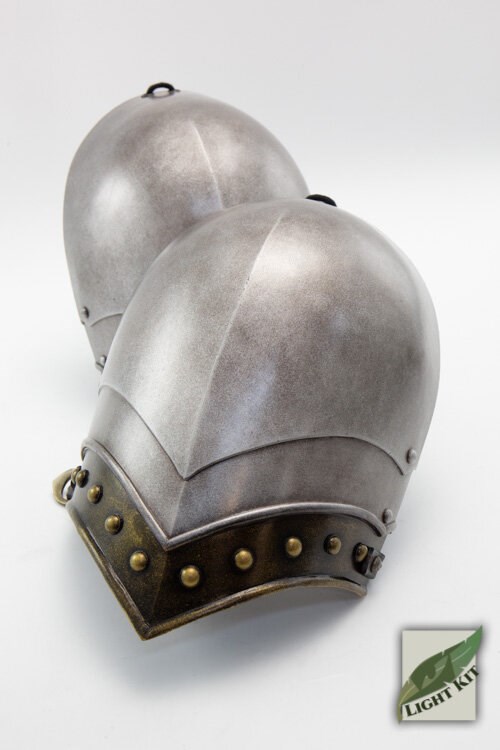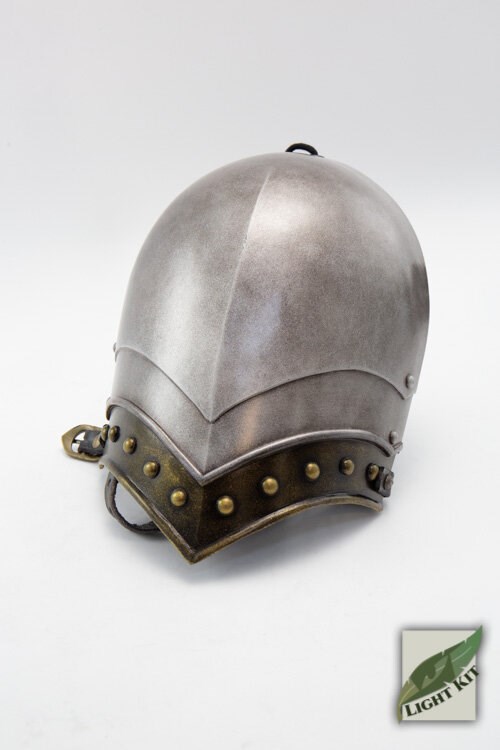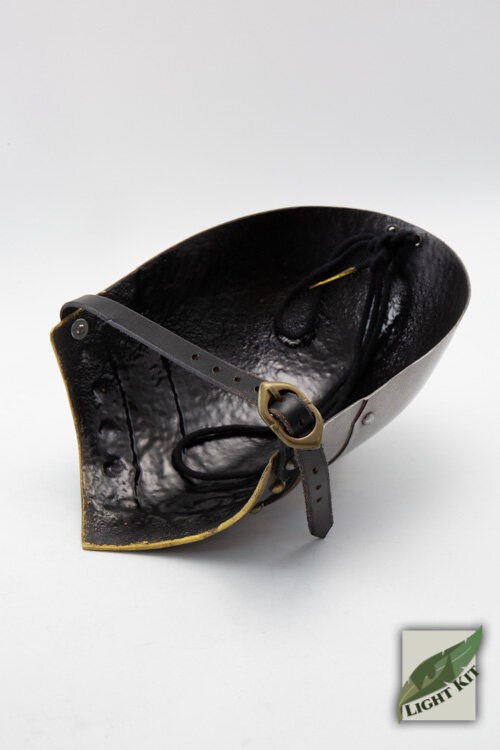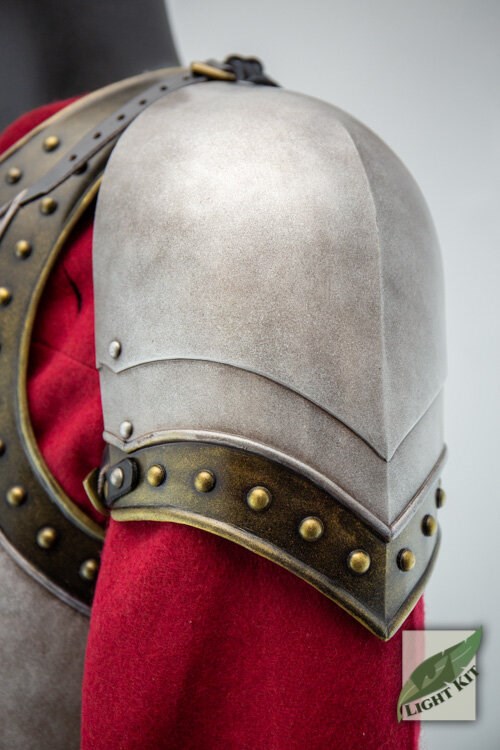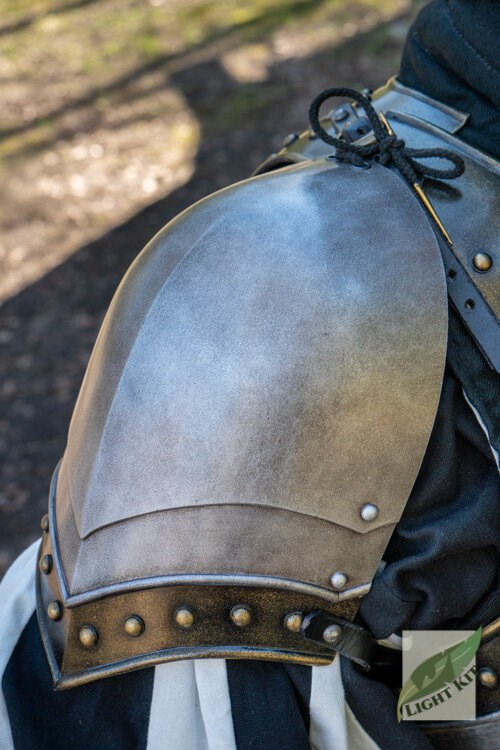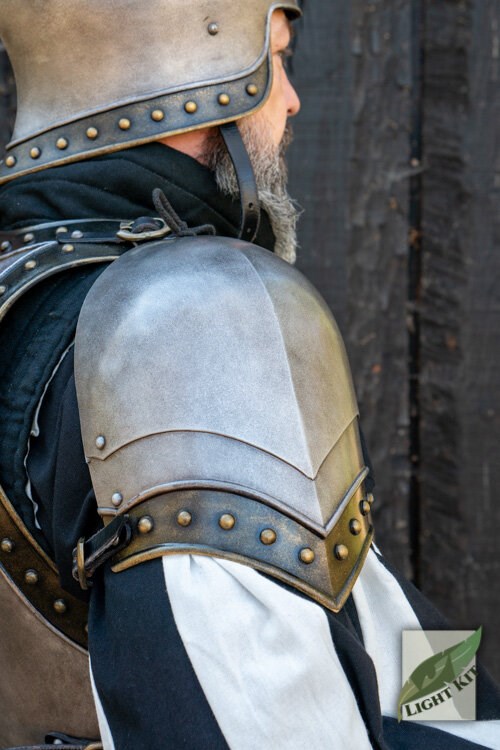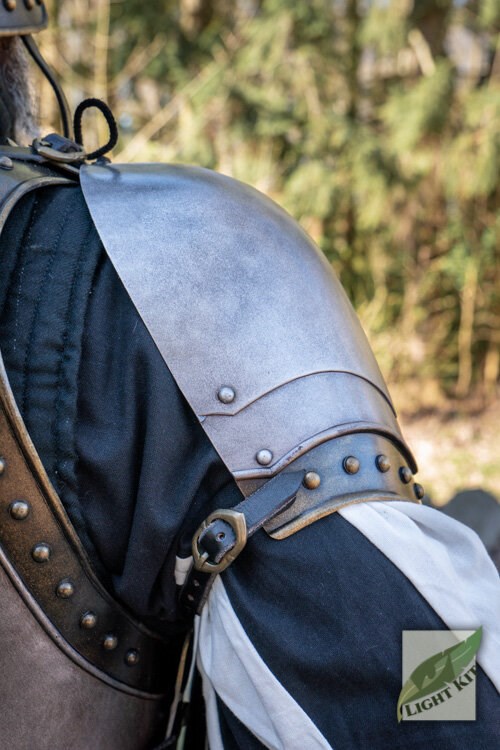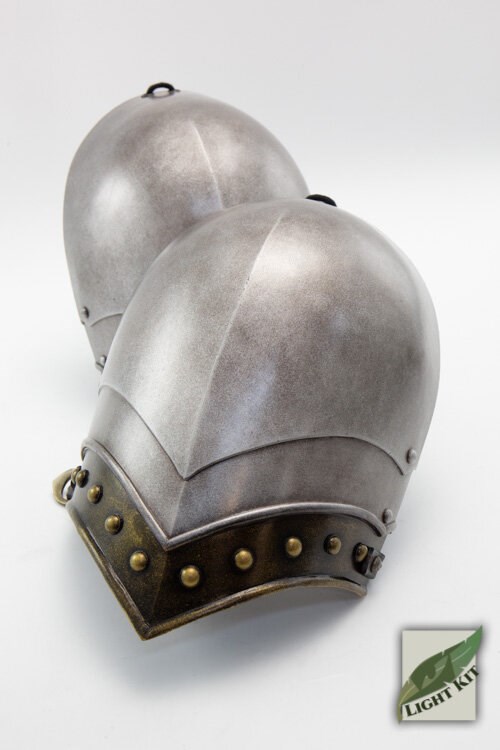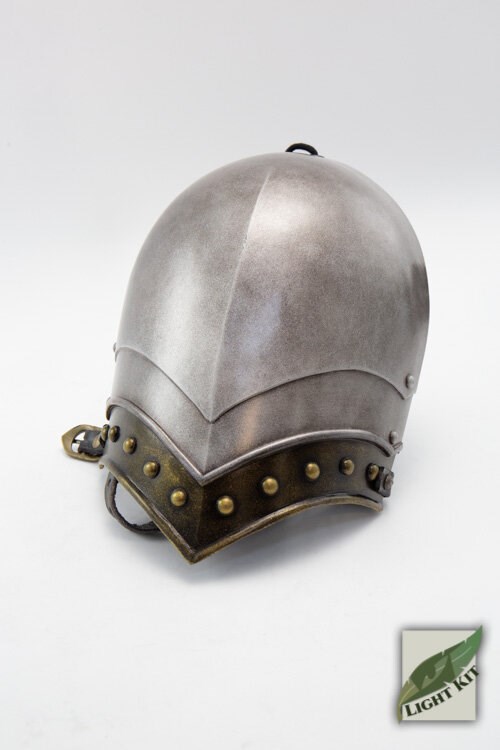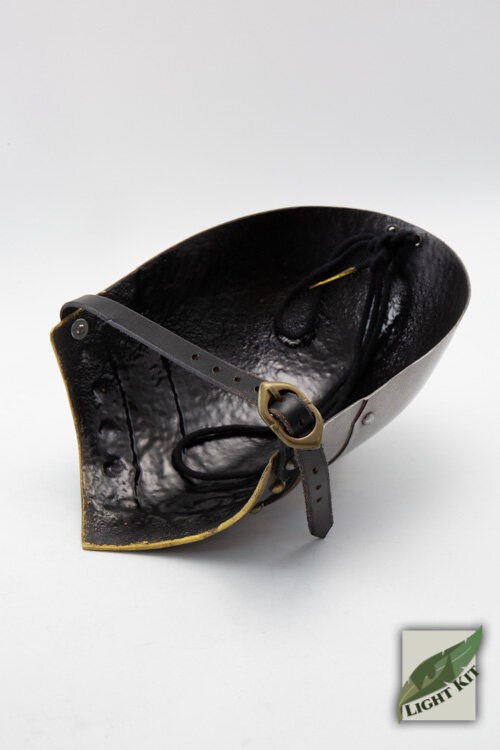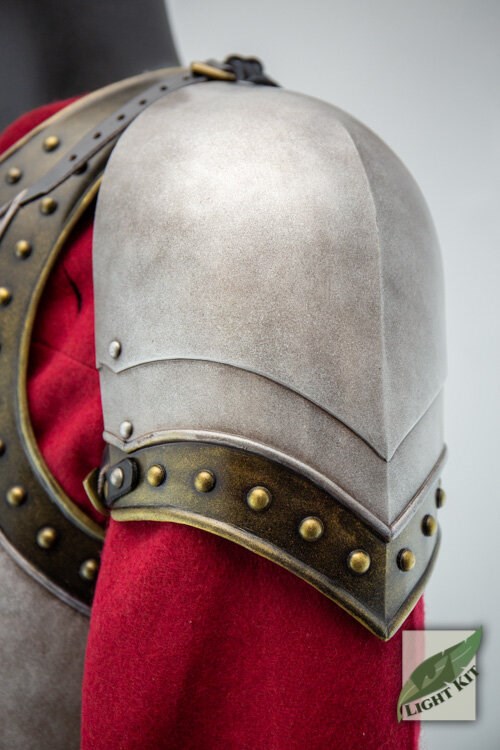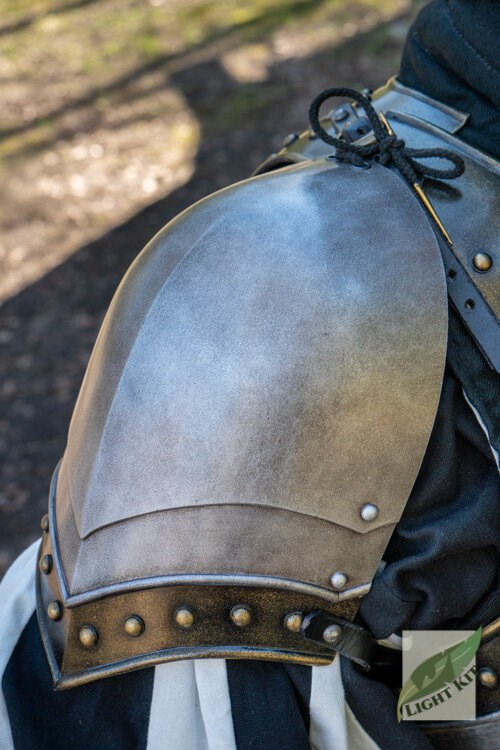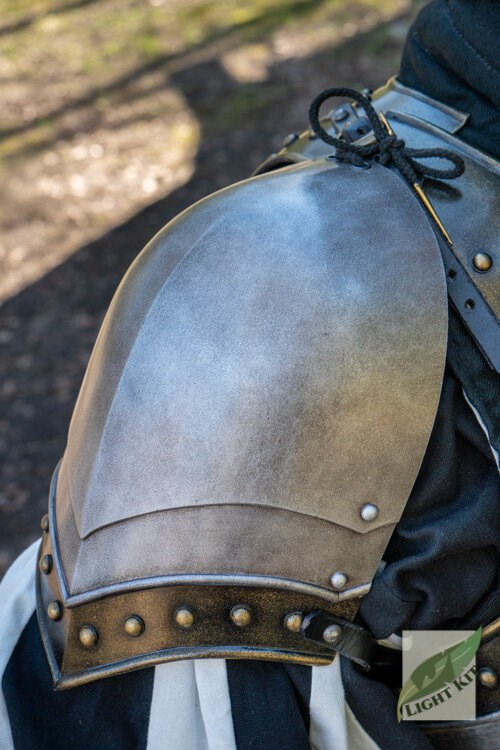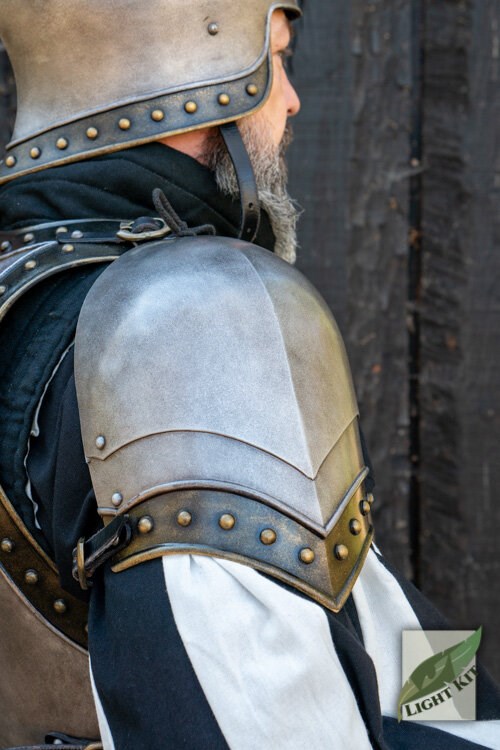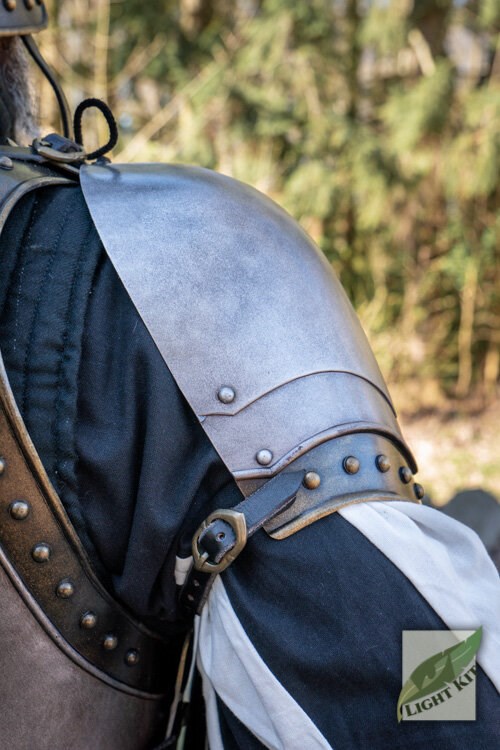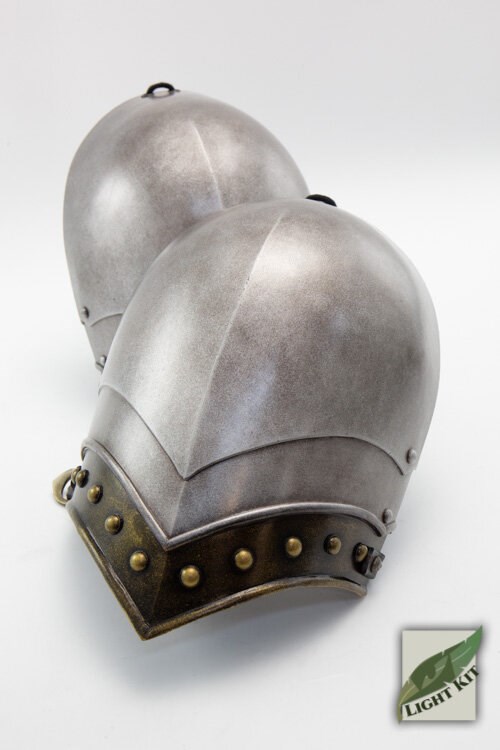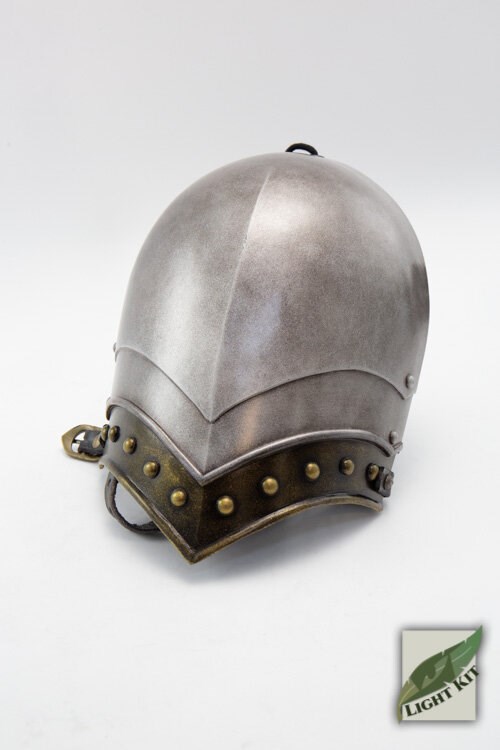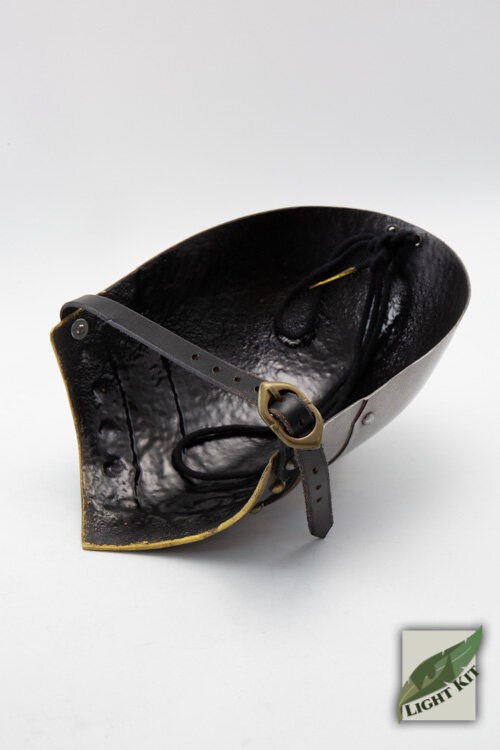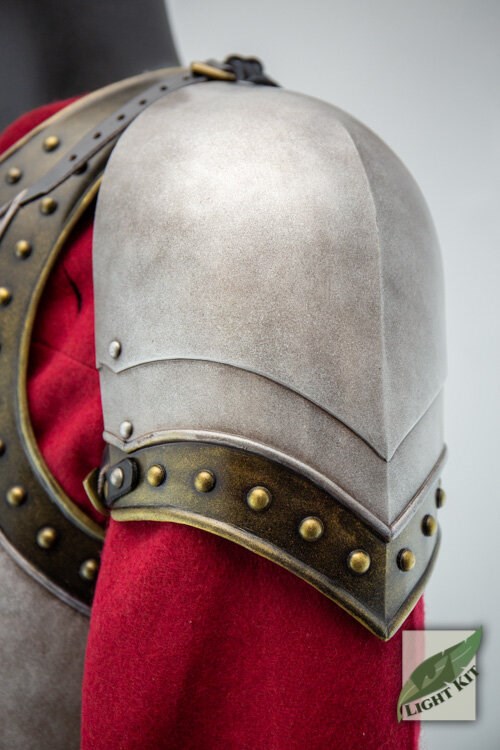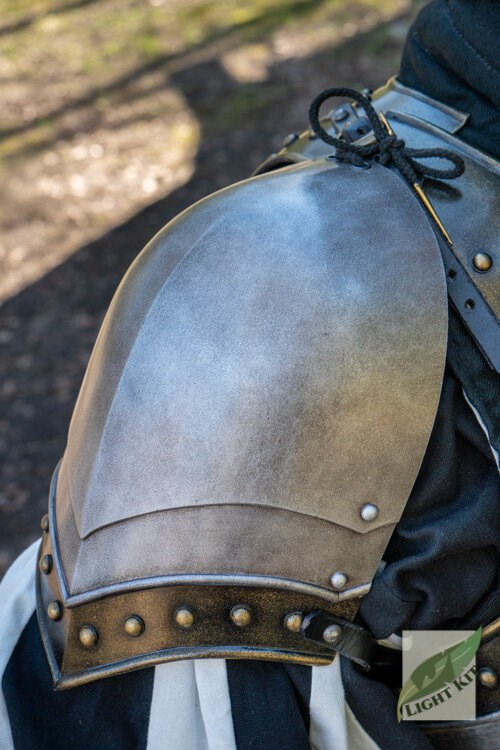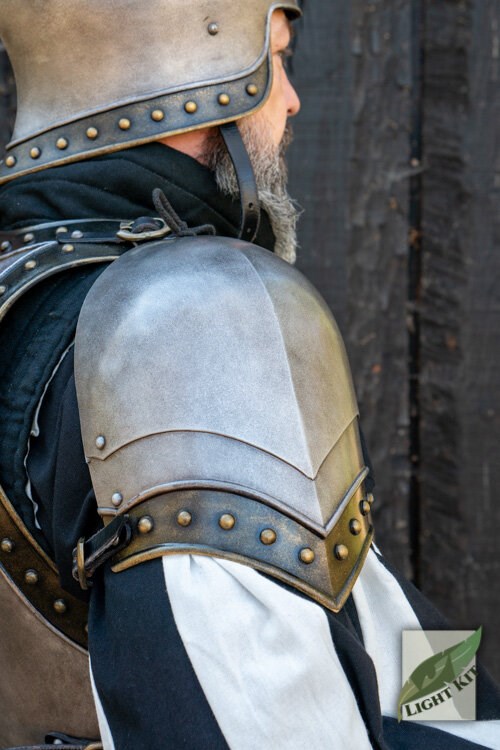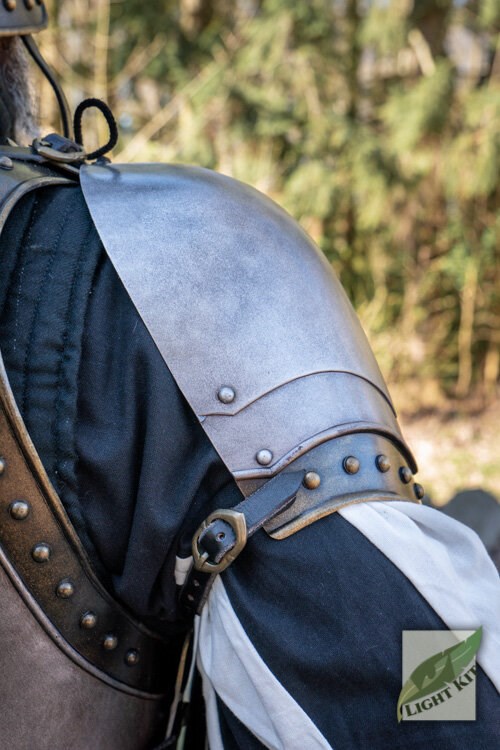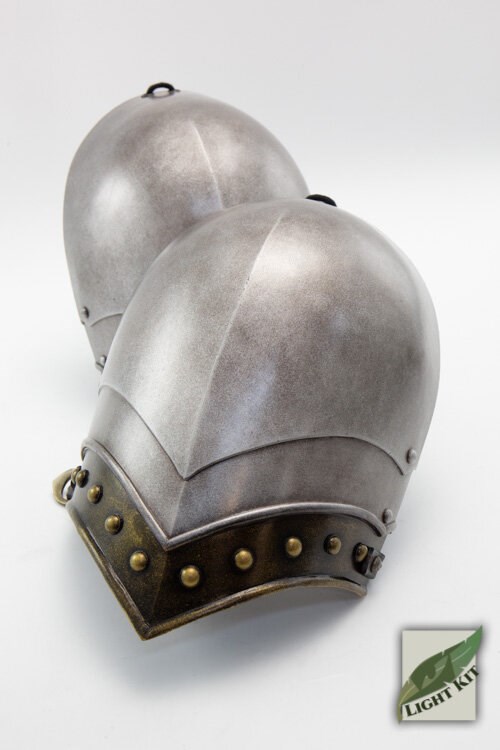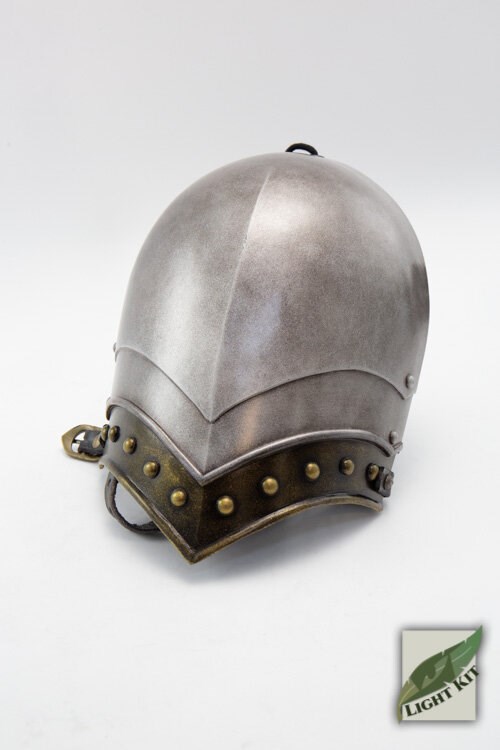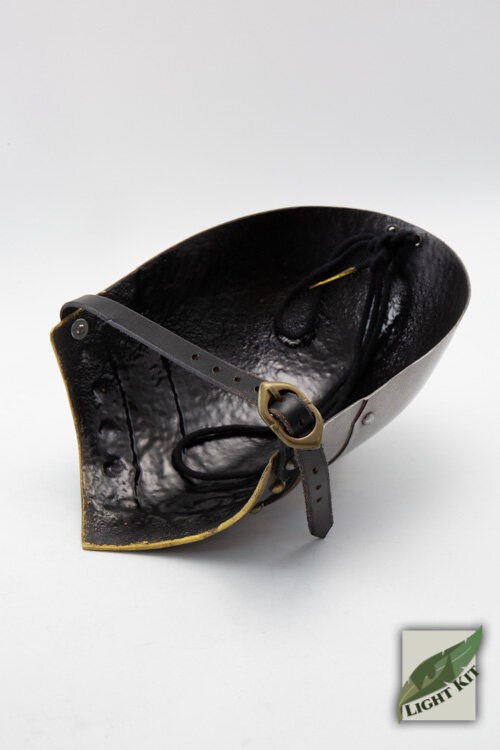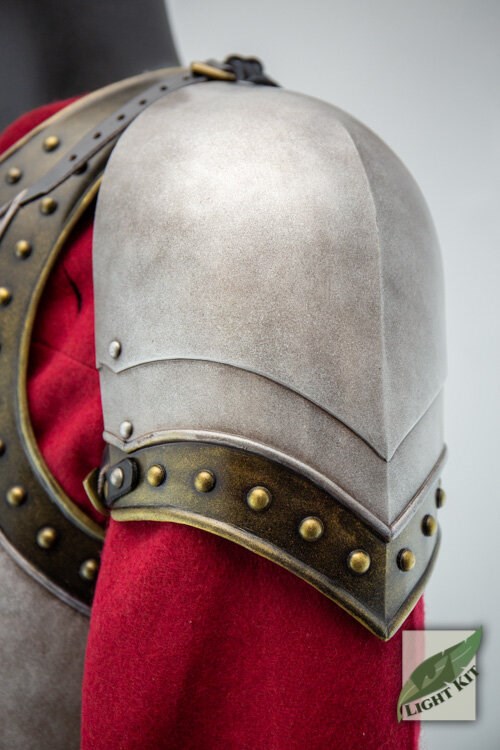 Knightly Spaulders
SKU: Choose variant, Old SKU: Choose variant
SKU: {{chosenVariant.variantSku}}{{chosenVariant.oldVariantSku ? (', Old SKU: ' + chosenVariant.oldVariantSku) : '' }}
Light Kit, Sovereign
In Stock
Available
(choose variant)
LOG IN to see prices and add to your cart
Description

Sizeguide

Fitting

Quality

Technical Details
Rumours are heard whispered in the hallways of the castle and the straits of the Citadel about a usurper. The crafty lady-in-waiting, that you slept with last night, seemed more exhilarated gossiping about how unknown forces within the court are plotting against the old king and his only son. "Who would possibly want that sad excuse of an heir anywhere near the throne, once the old man is dead", she had tattled with unabashed excitement.
Gossip is not a part of your duties though. Your paramount task is protecting the life of your king at all times; always alert and armed. You would gladly give your life for this man who has been appointed to rule by the Gods. Just as you put on your helmet you hear loud, agitated voices outside in the courtyard...
DETAILS
Very few things offer greater protective qualities than steel, when it comes to historical armour. But with steel also comes disadvantages like weight, inflexibility and the need for constant maintenance to protect against rust. Nevertheless, in this day and age, unless you are on the re-enactment or SCA battlefield, you simply don't need the level of protection that steel affords.
We here at Epic Armoury would like to present our Light Kit Edition Armours. Light Kit Armours are armours made out of Polyurethane, meant to resemble authentic metallic armours. Created with weight, comfort and utility in mind, Light Kit edition armours are for those people, who want to look like they are wearing authentic metallic armours while being comfortable.
To the untrained eye, these polyurethane armours are difficult to distinguish from their metallic counterparts.They are, however, more comfortable to wear and can be worn for long periods of time without discomfort. Indeed, the flexible nature of this armour means that it can bend to the contours of your body in a way that rigid steel will not. Each part is typically a quarter of the weight of their steel equivalent, allowing for faster movement with less fatigue. Each piece is hand painted with a durable acrylic finish and is detailed to look as realistic as possible. The maintenance free finish will not rust like steel does and can be worn in all kinds of weather. Adjustable leather straps and the flexible nature of the armour allows it to be comfortably worn. The Knightly Light Kit Spaulders are inspired by Medieval armour and valiant knights
This armour is perfect for a variety of uses such as LARP, Cosplay, Costume Parties or Theatre.
Available in size L-XL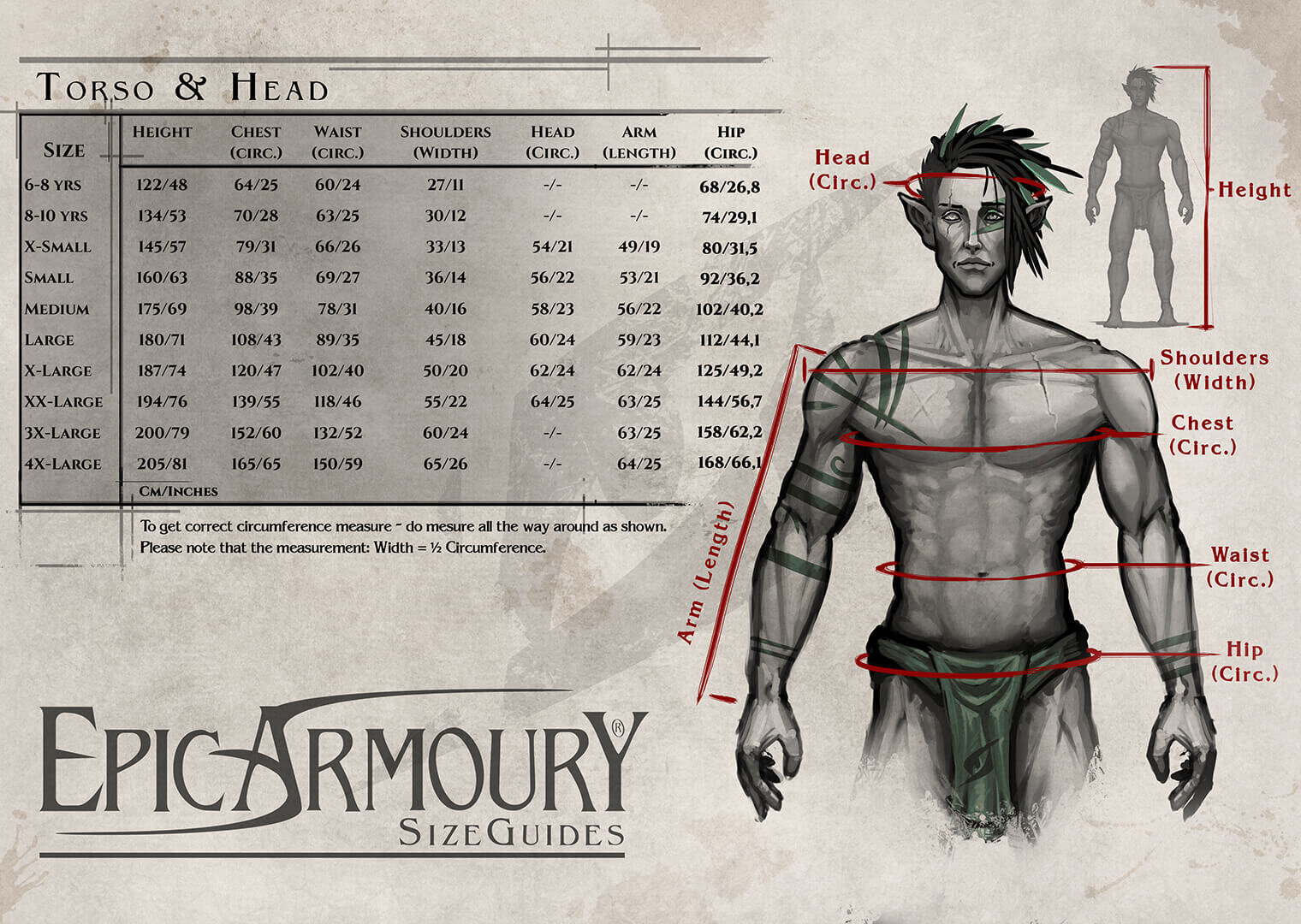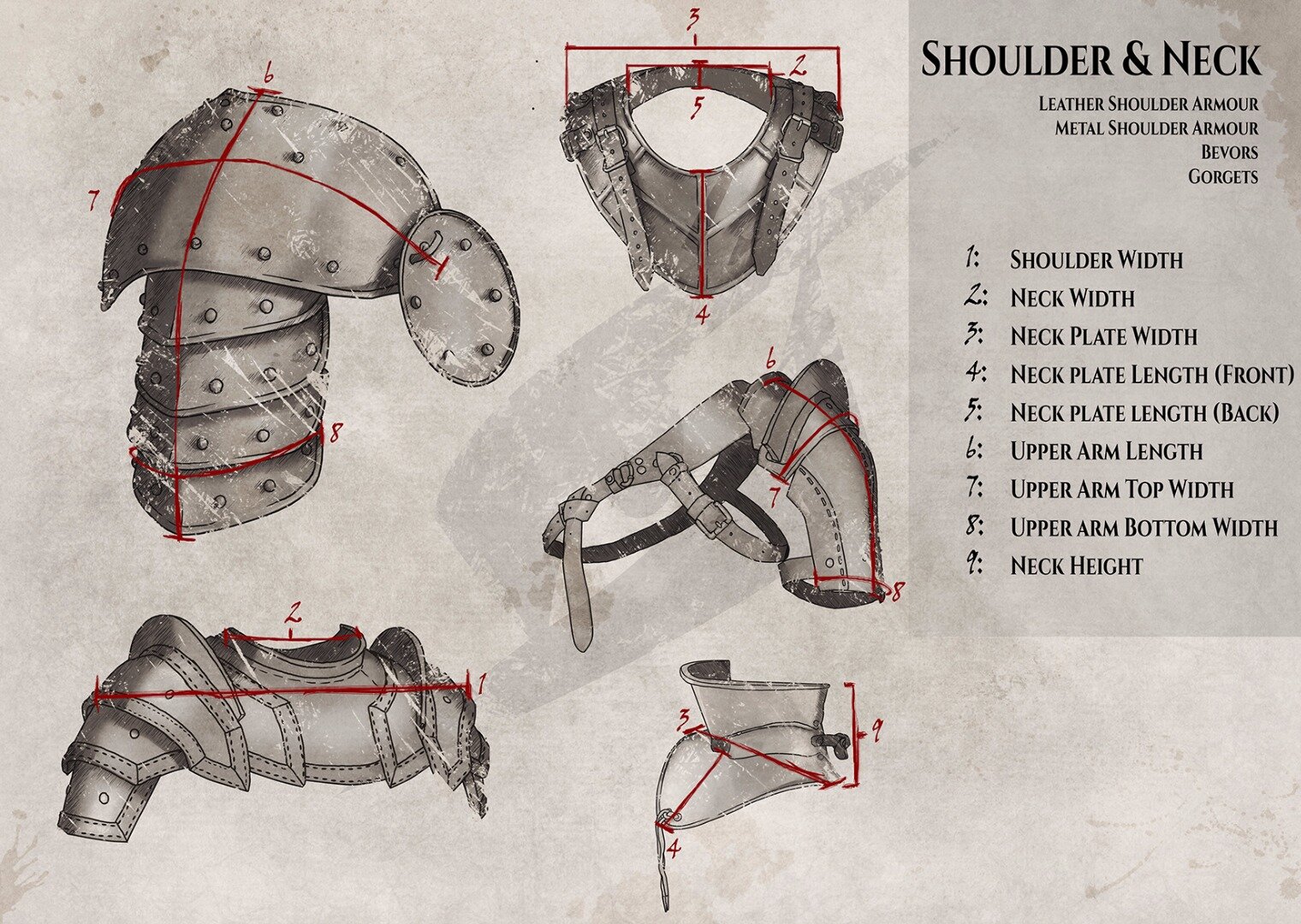 Made from polyurethane
Leather straps are riveted to armour
Sturdy brass buckles for easy attiring
This product is handmade and hand-painted and therefore unique. As a result, when compared with similar item numbers, this product can have natural deviations in pattern, colour and shape, which are not considered defects or faults.
We produce our image material in a natural environment, where lighting and surroundings can affect colors and contrast. The displayed images may therefore appear different from the product you receive from us.
Measurements are all in cm if not stated otherwise.
Brand:
Light Kit
Universe:
Sovereign
Materials:
Plastic
Position:
Shoulders
Product type:
Shoulder Armour
Maintenance
With proper care and attention, your purchase should last for many years.
Your armour is made from a polyurethane material that is very strong and will maintain its shape and form if looked after correctly.
Please be aware that although the armour is strong, it is designed to be used for costume purposes only and should not be used or relied upon for protection!
Do not leave out in the sun for long periods of time, as heat can make the polyurethane malleable to the touch.
CLEANING
Your item has been professionally finished with durable paint and polish. Inevitably, as with any painted surface, you will get scratches and wear and tear over time.
For surface soiling we recommend washing with warm soapy water and a soft cloth, avoiding leather straps.
Do NOT use any solvent-based cleaners or insect sprays on or near the armour.
Leather straps can be polished with normal shoe polish but avoid getting polish onto the armour surface.
STORAGE
Breastplates and backplates should be strapped together and ideally hung on a coat hanger or similar hanging system. Shoulders also are best stored on hangers.
Helmets should ideally be placed on a stand so that any protruding features such as nasals and ear flaps are hanging free. We have helmet stands available in our online shop if needed.
We recommend that leg armour and braces are strapped around something cylindrical when not in use; drainpipes and drinks bottles could be used for example.
Do NOT store armour on or near to a heat source as this can cause warping.