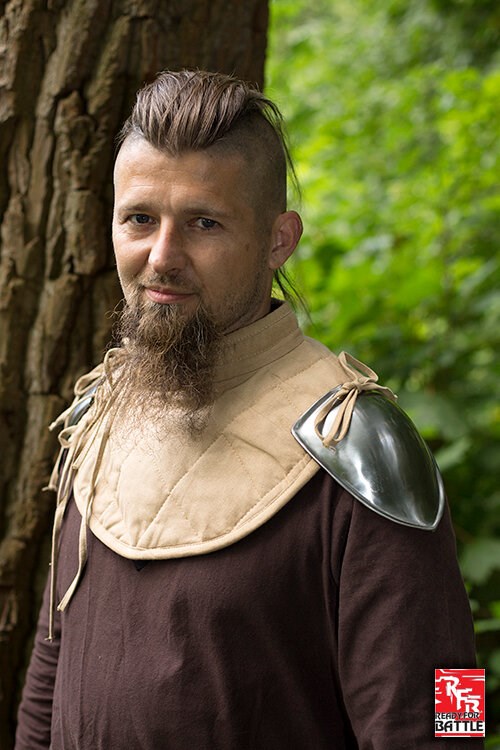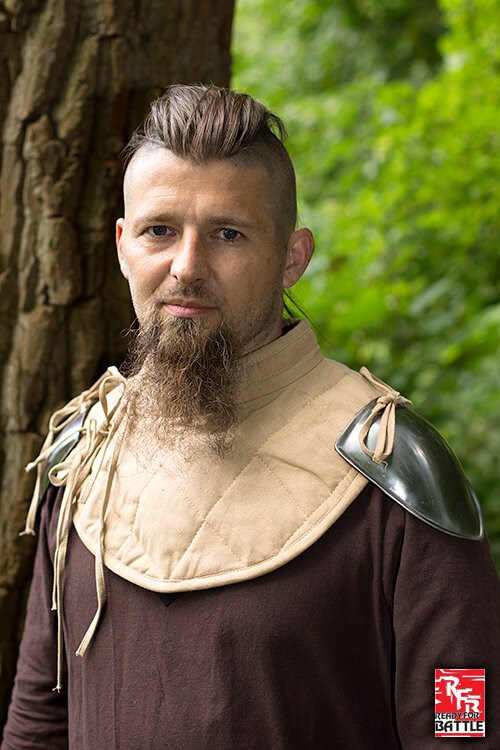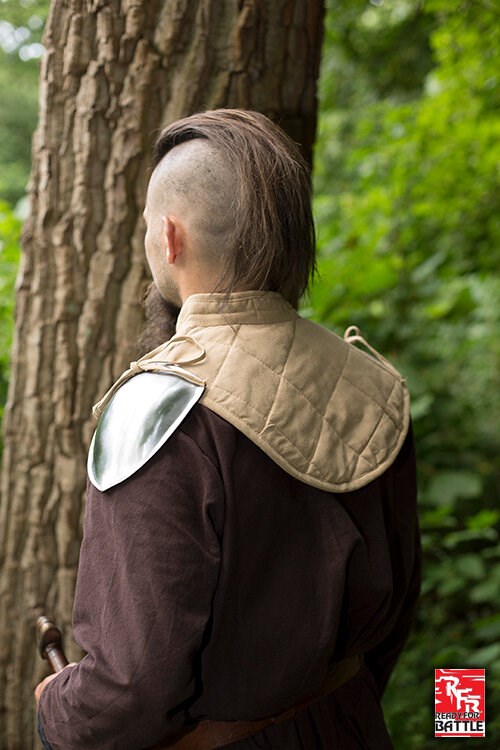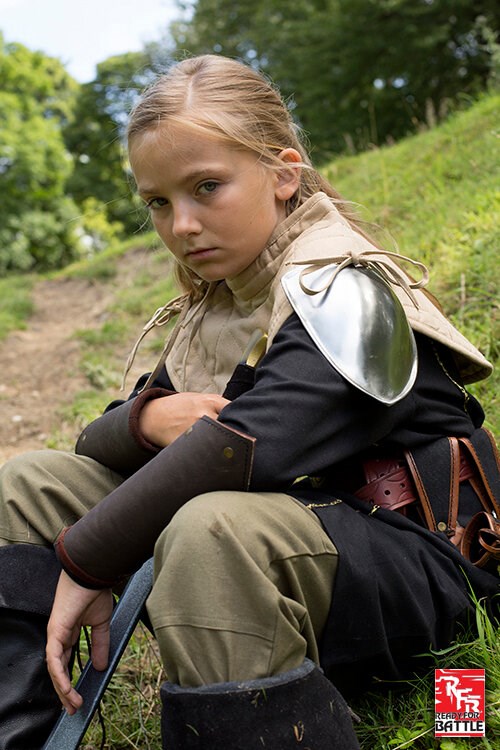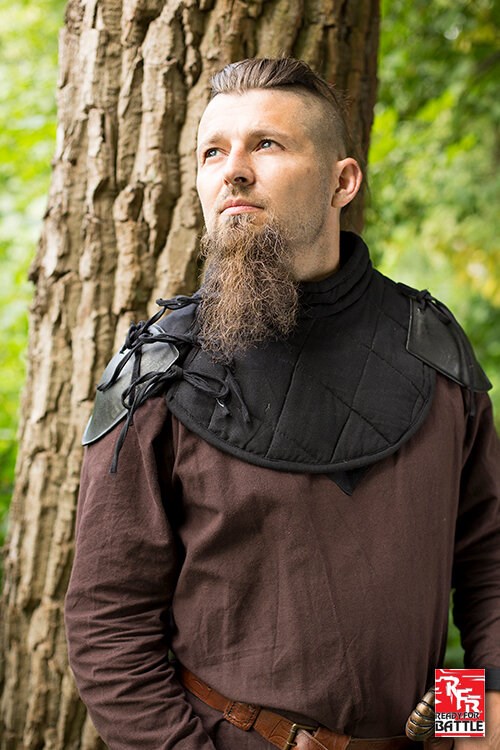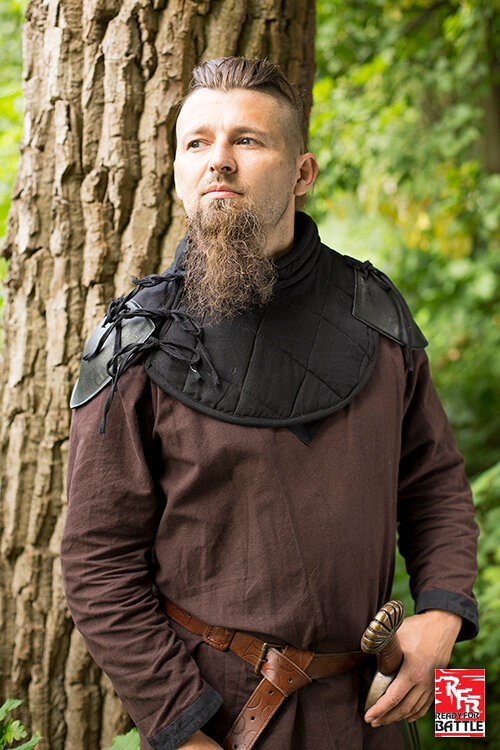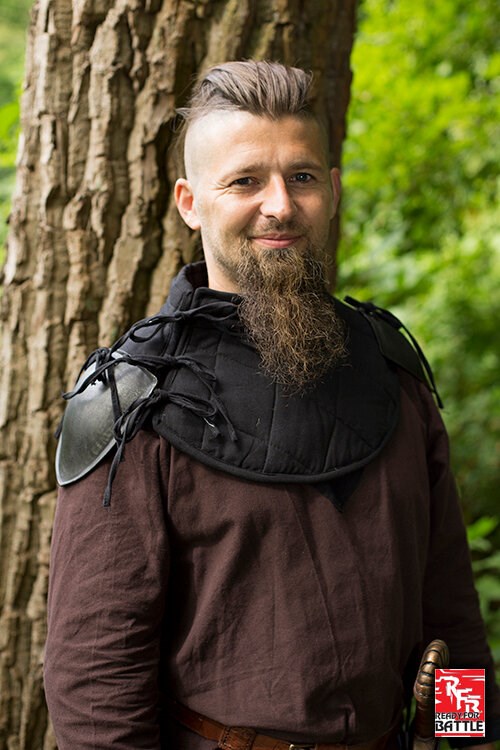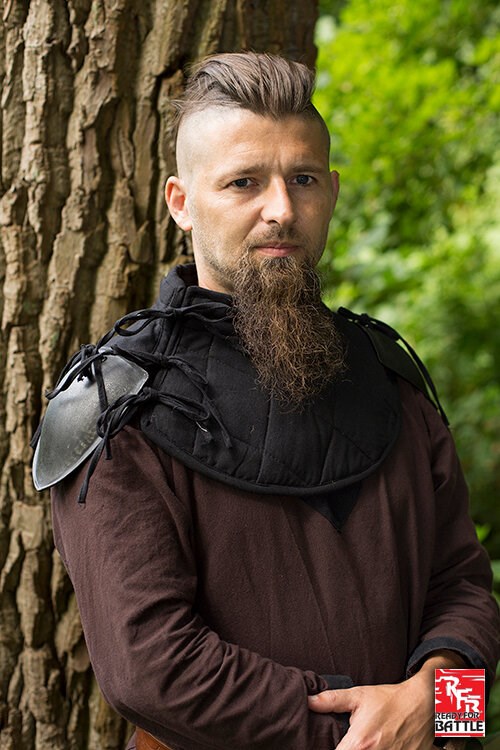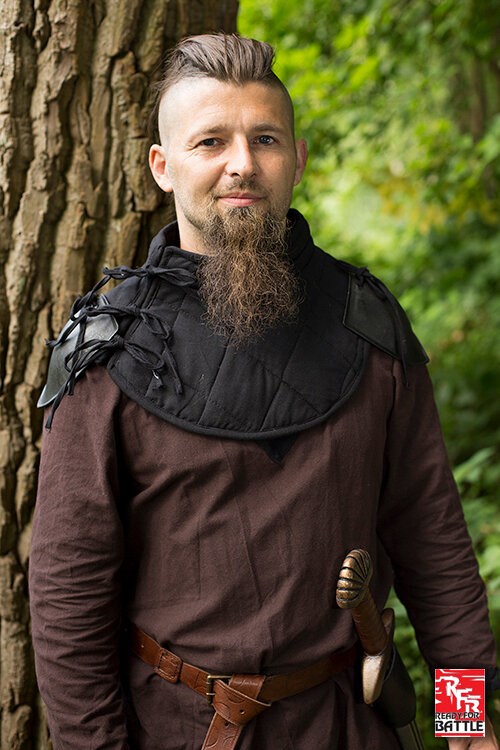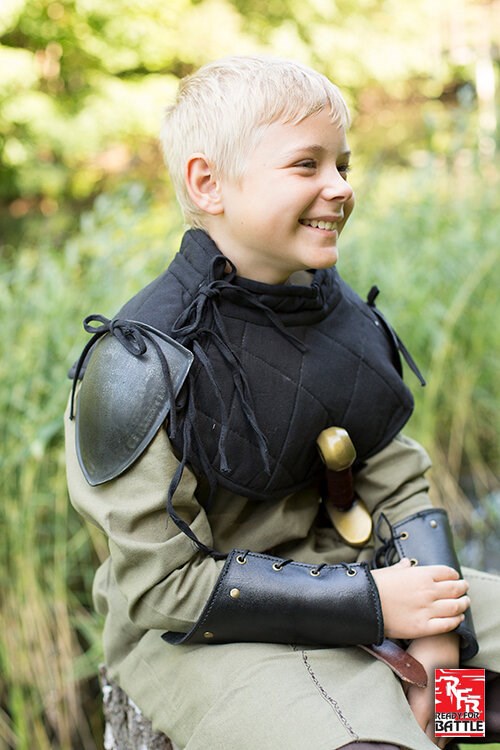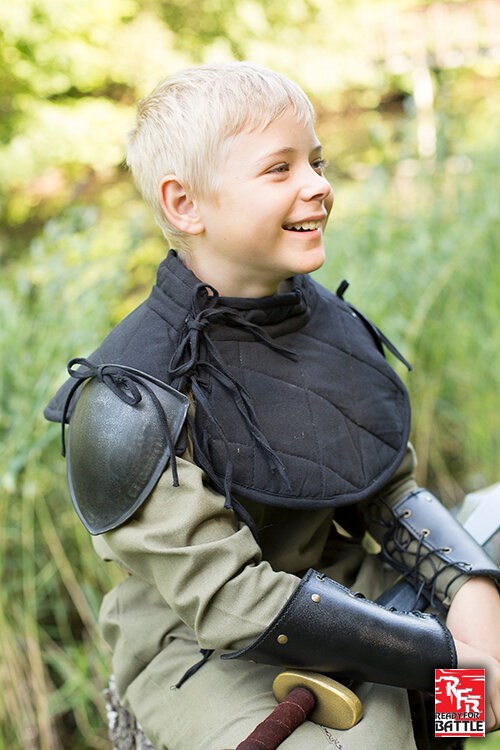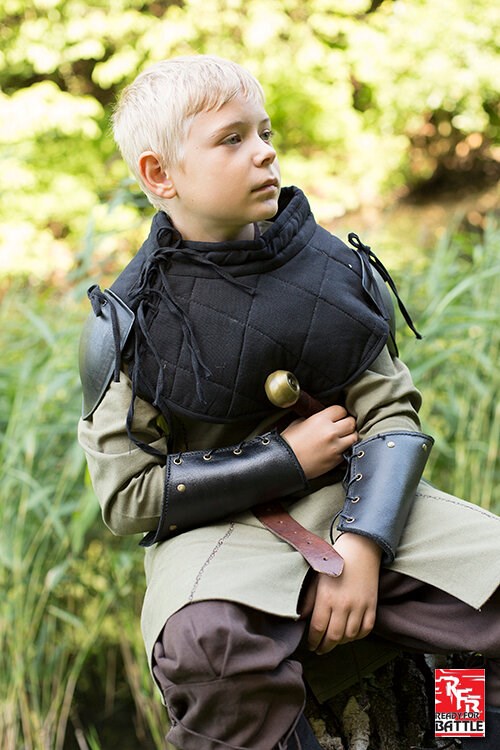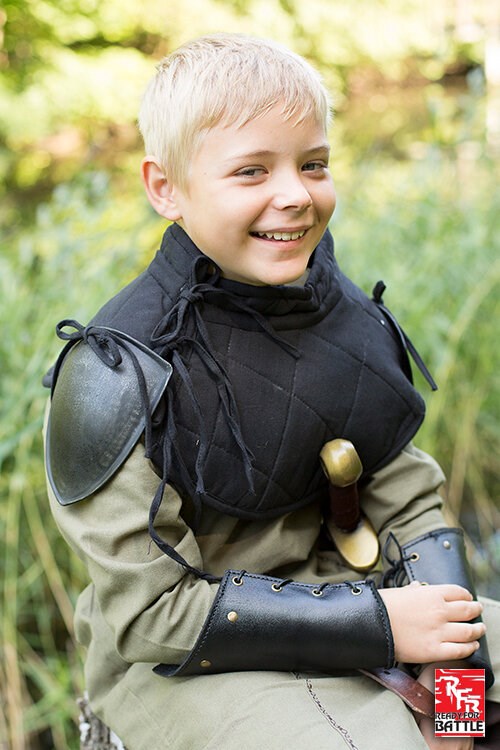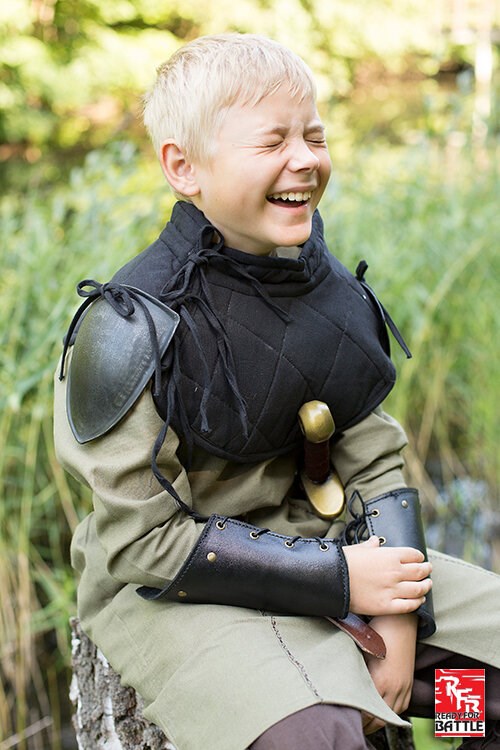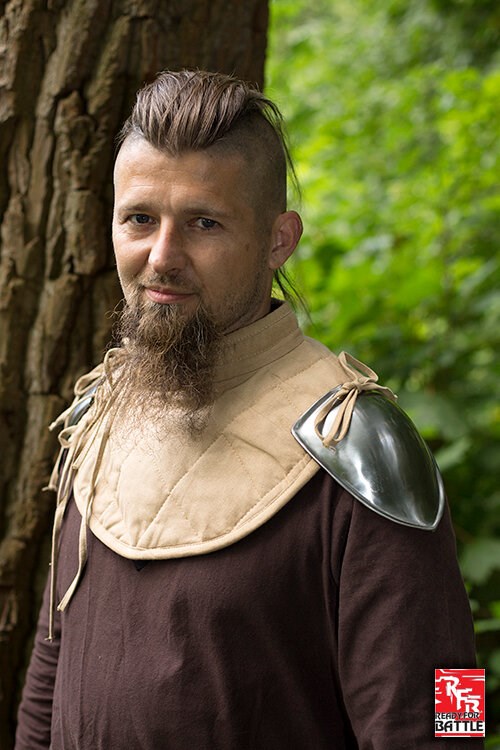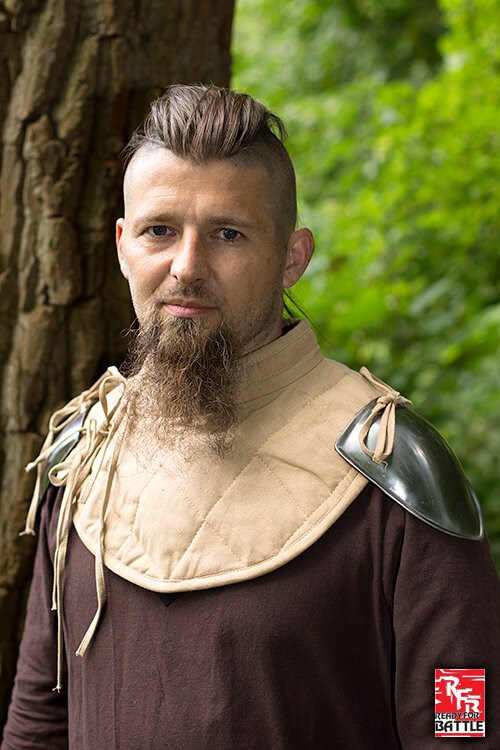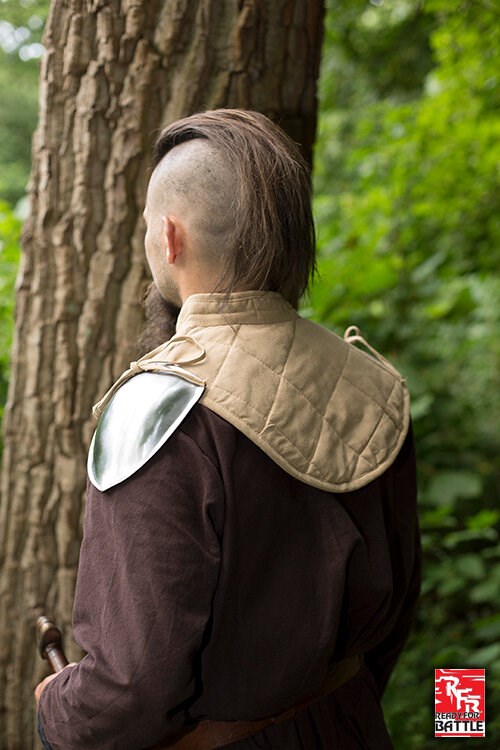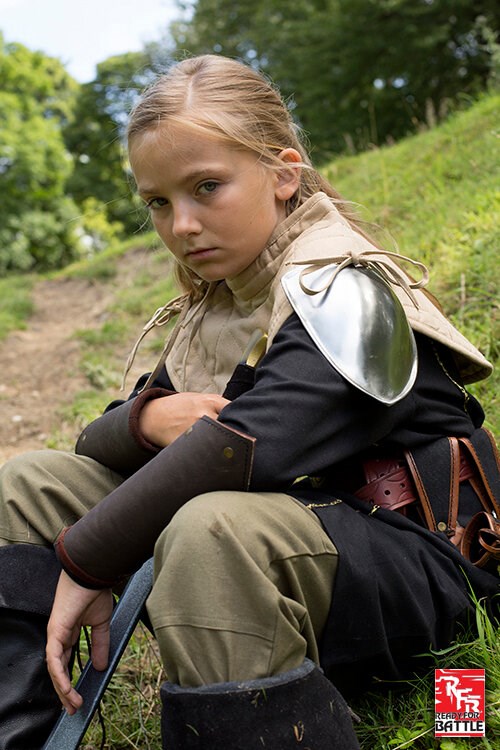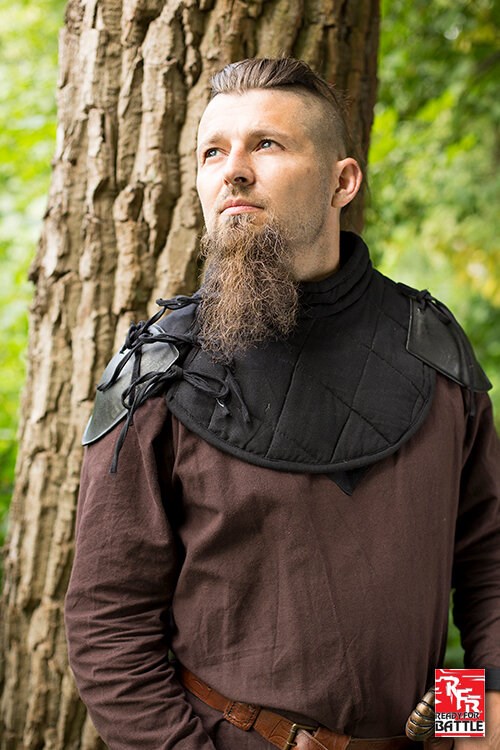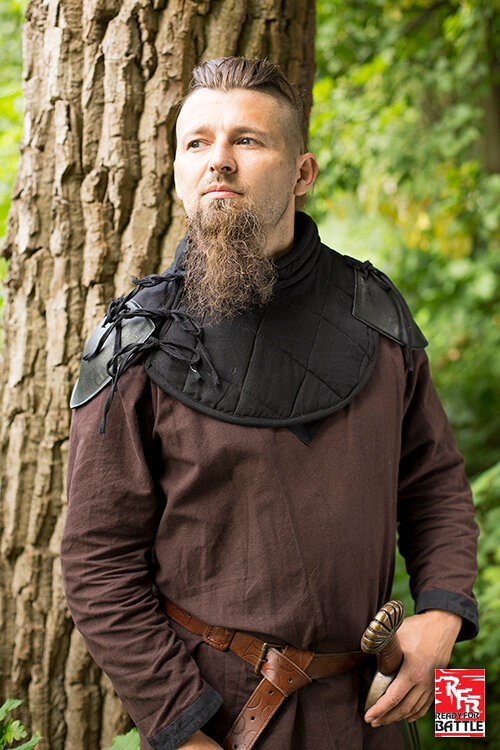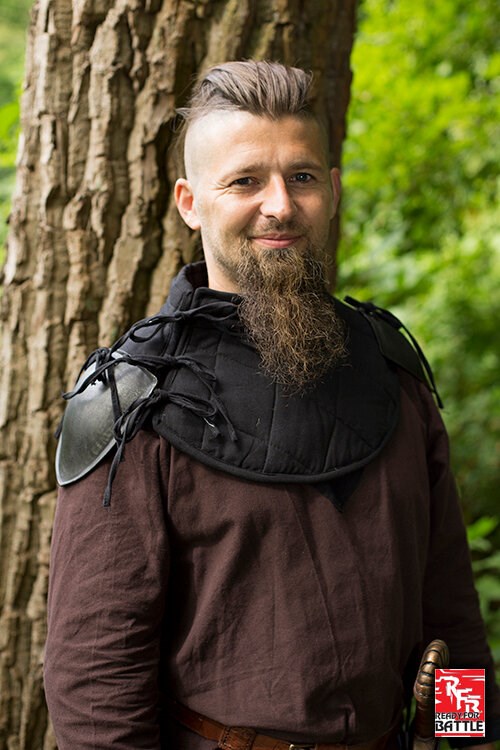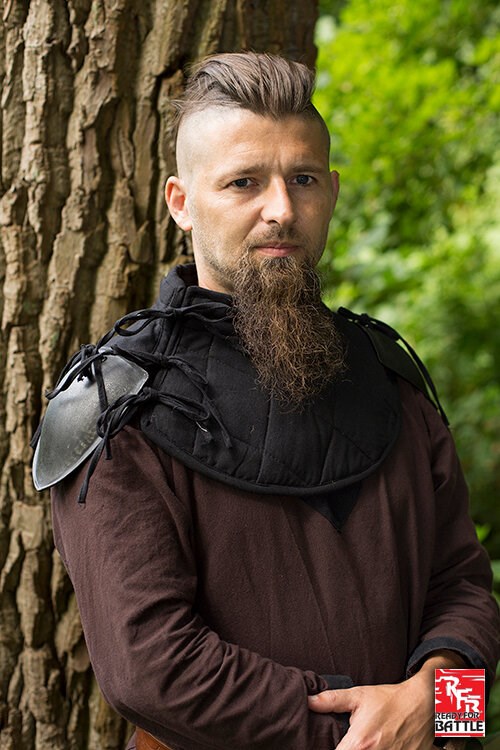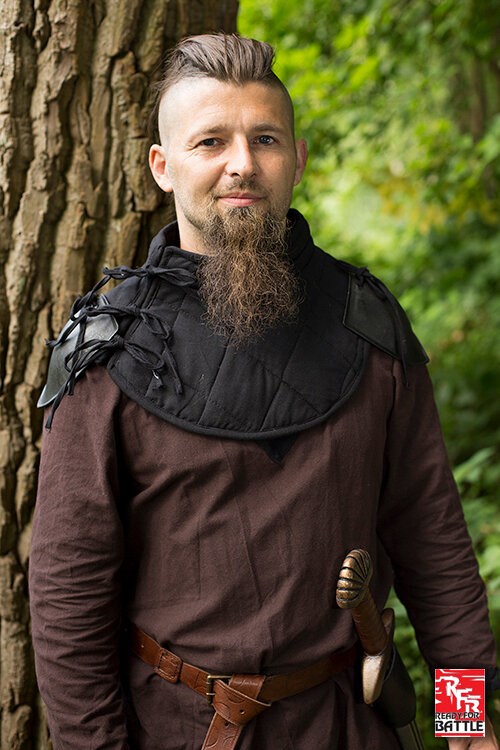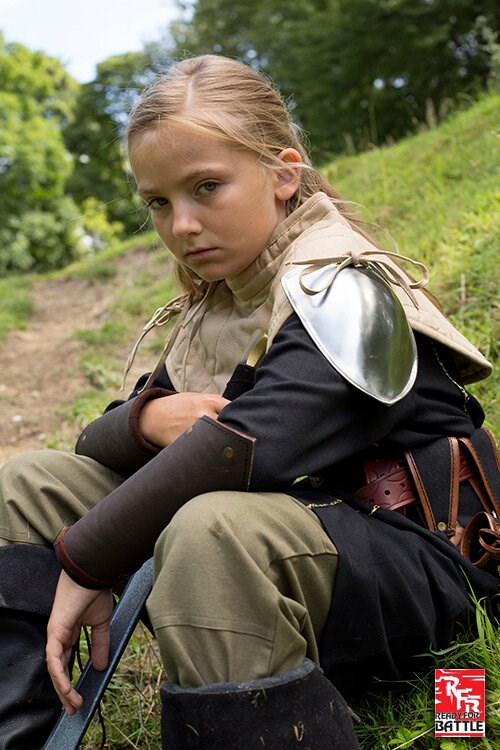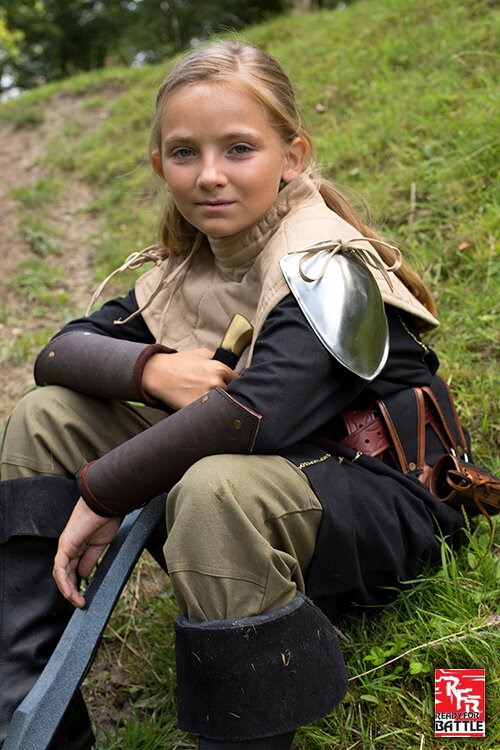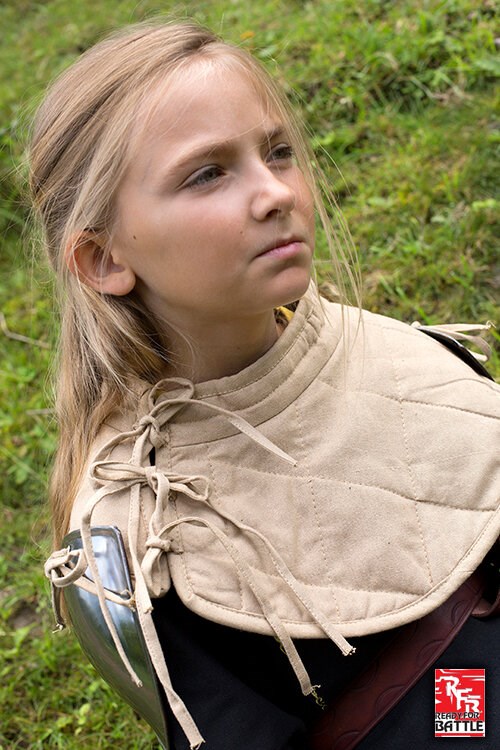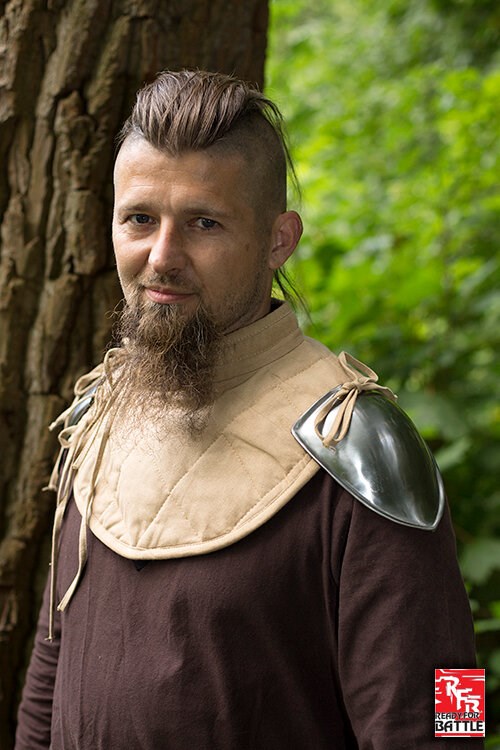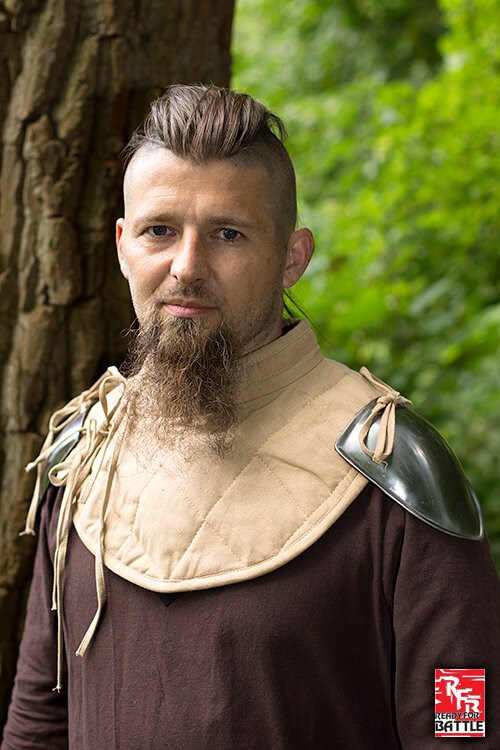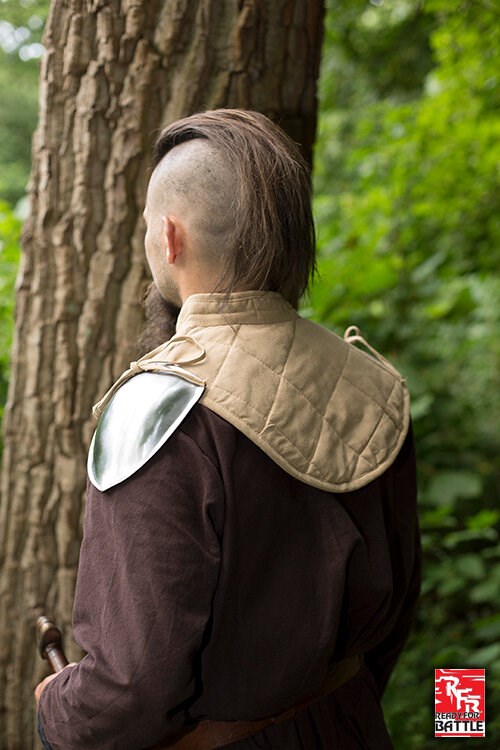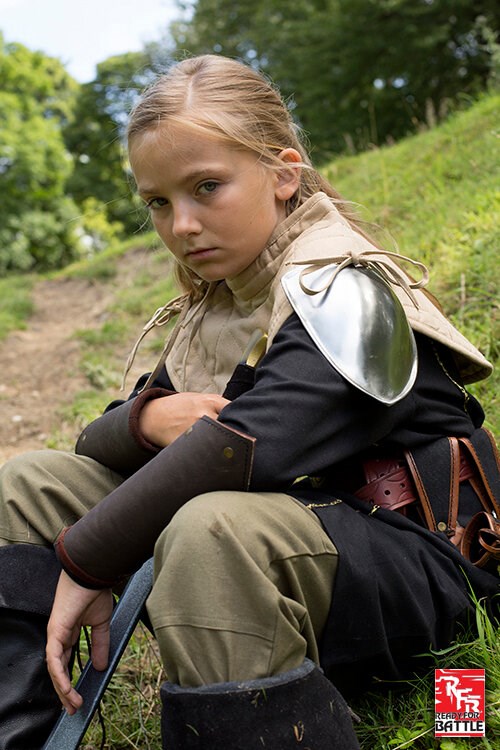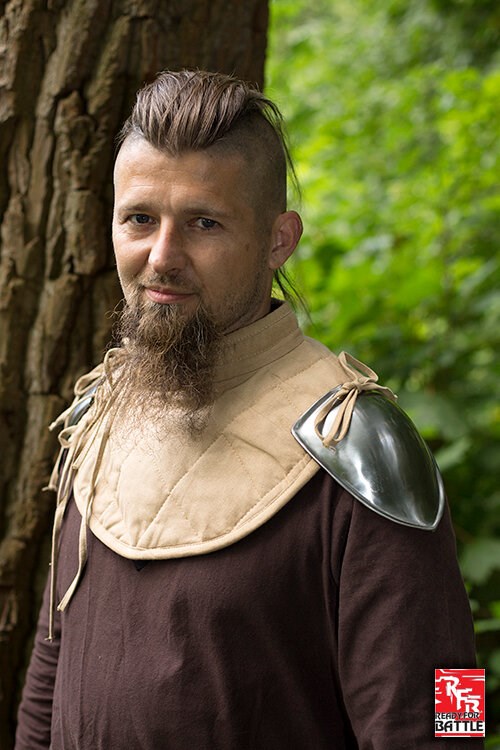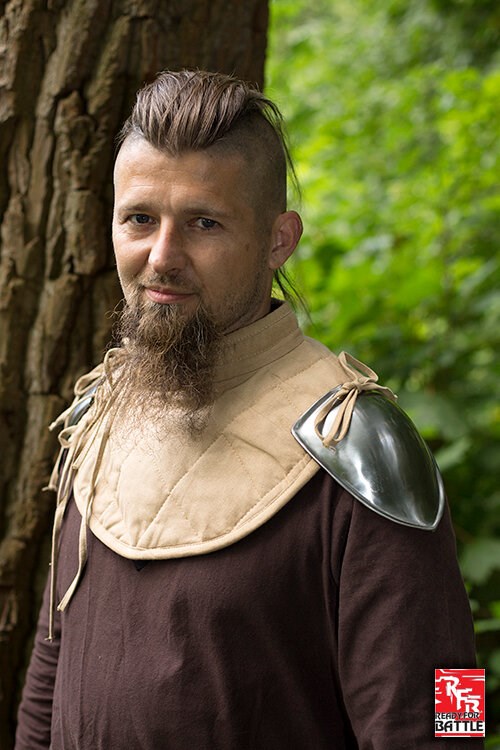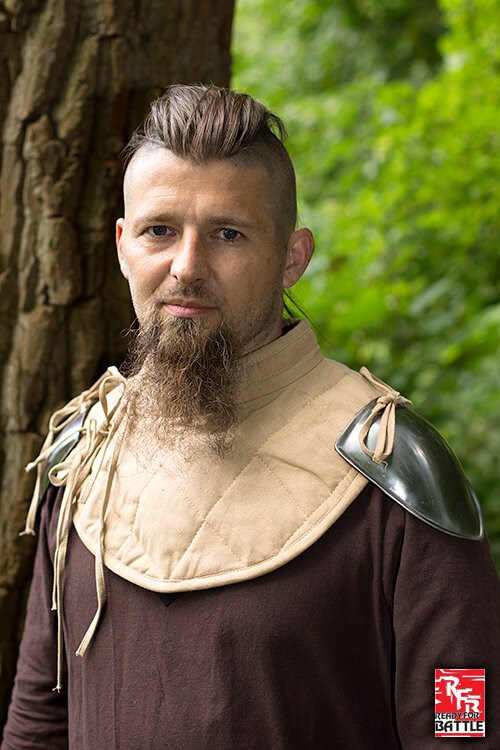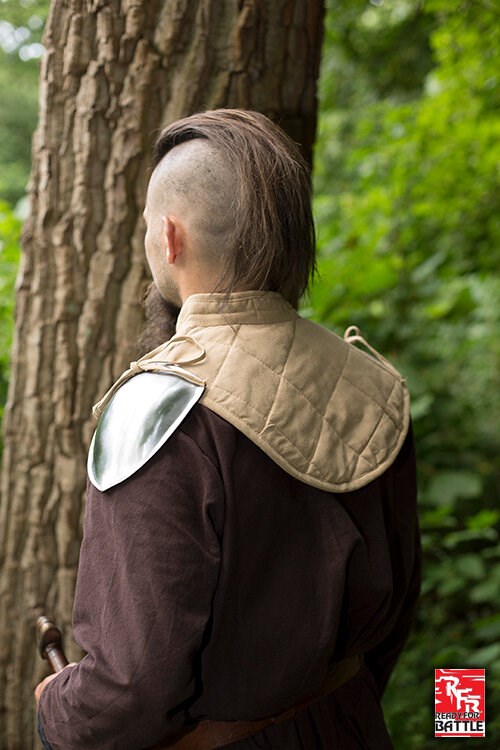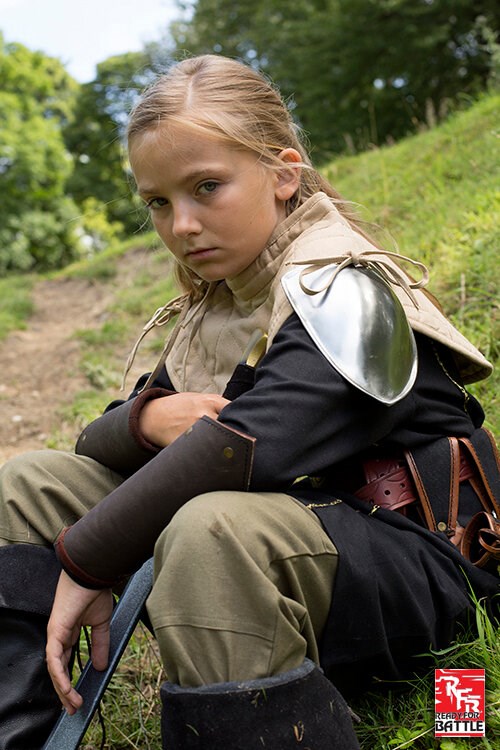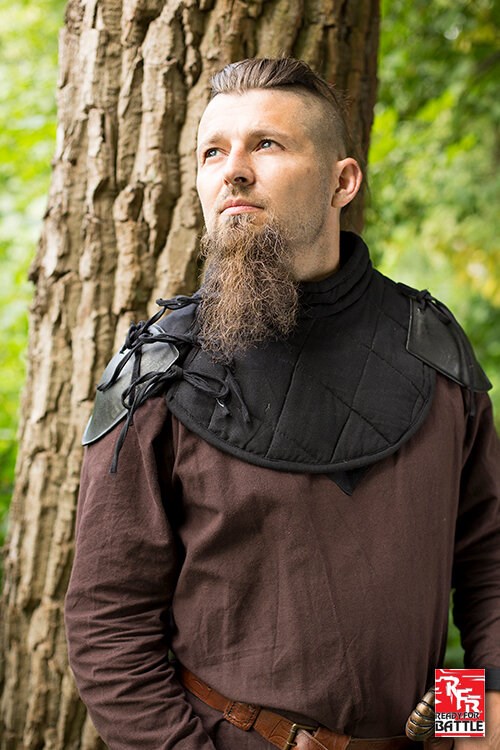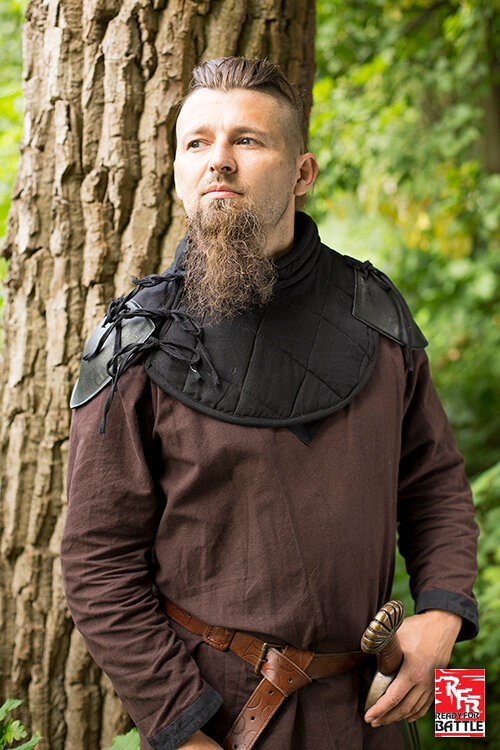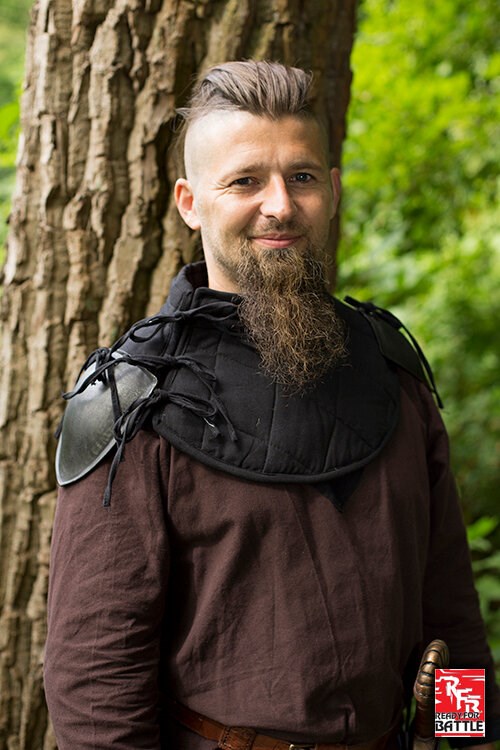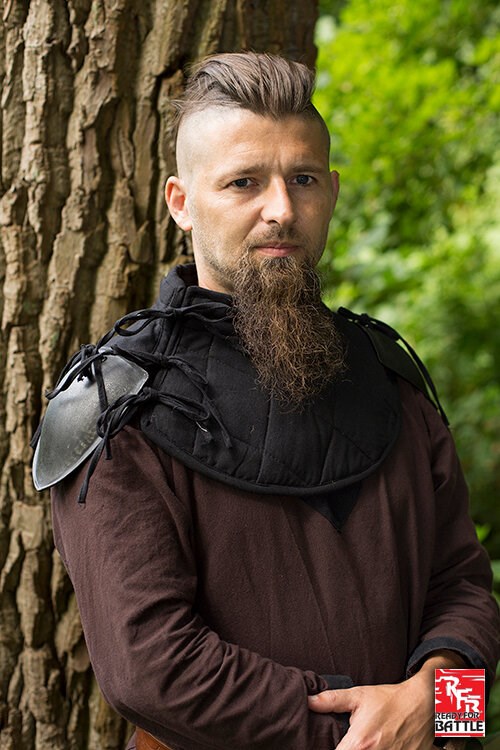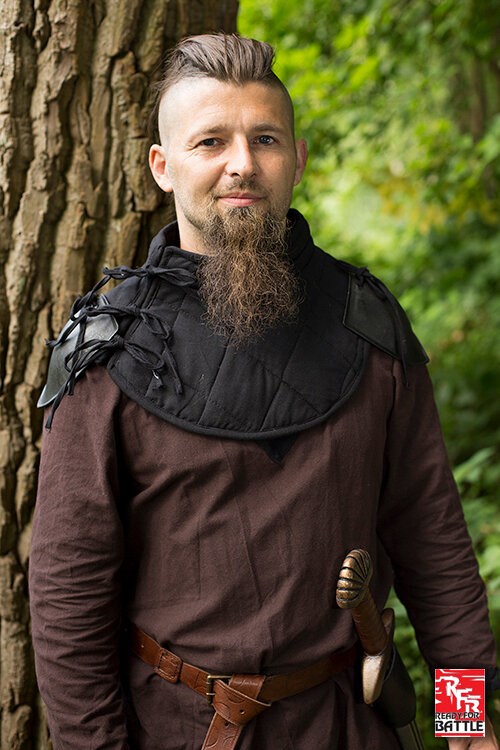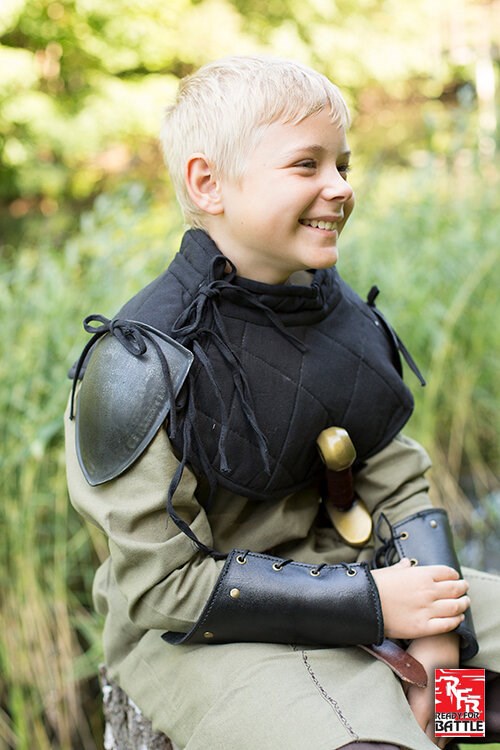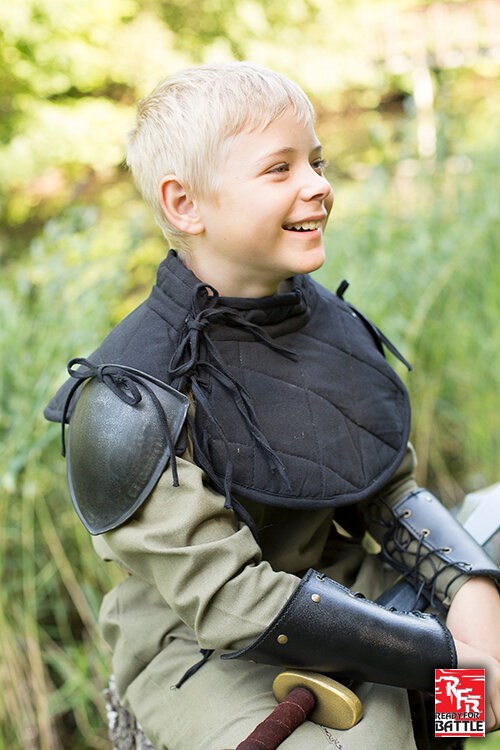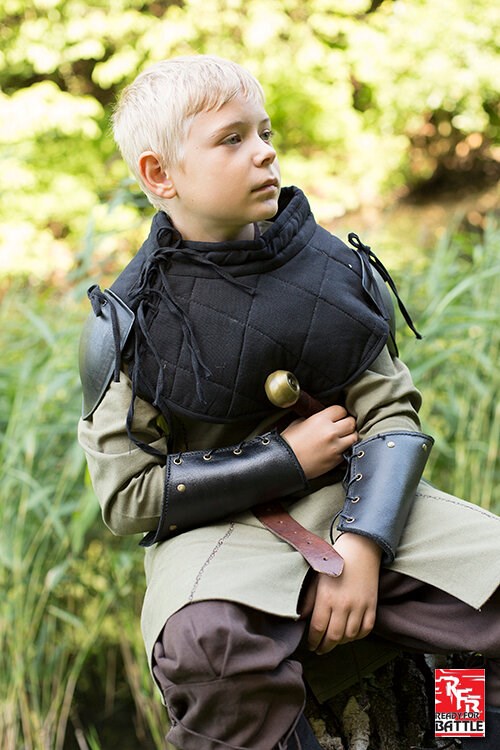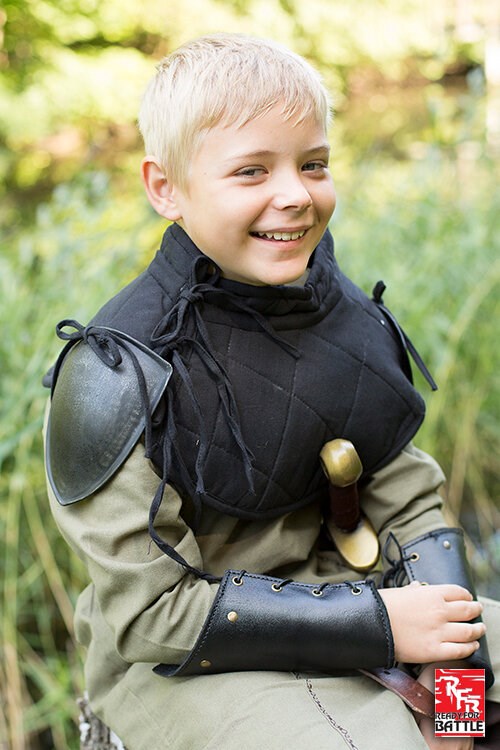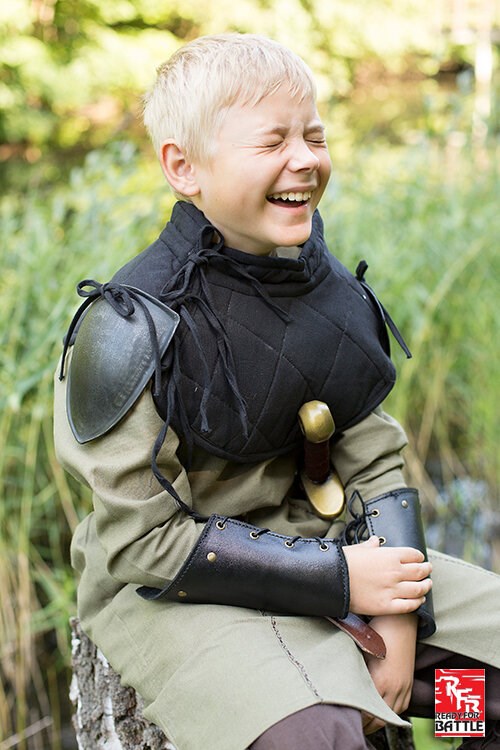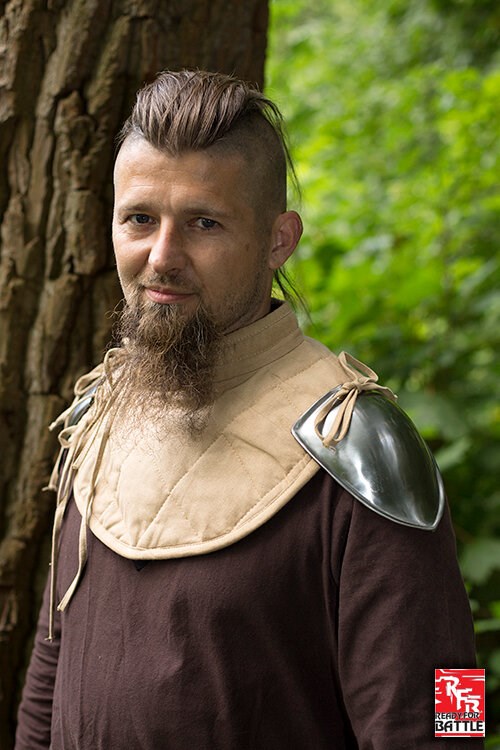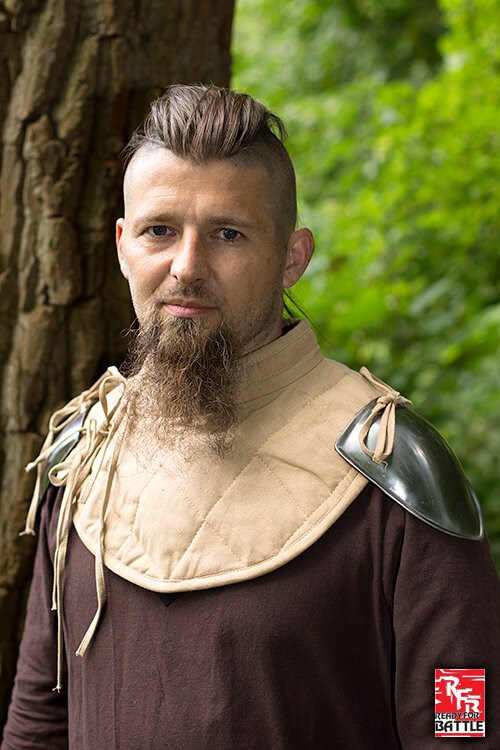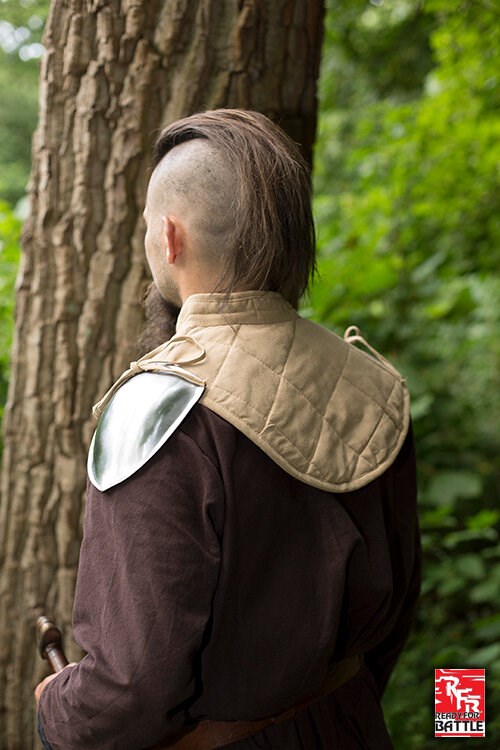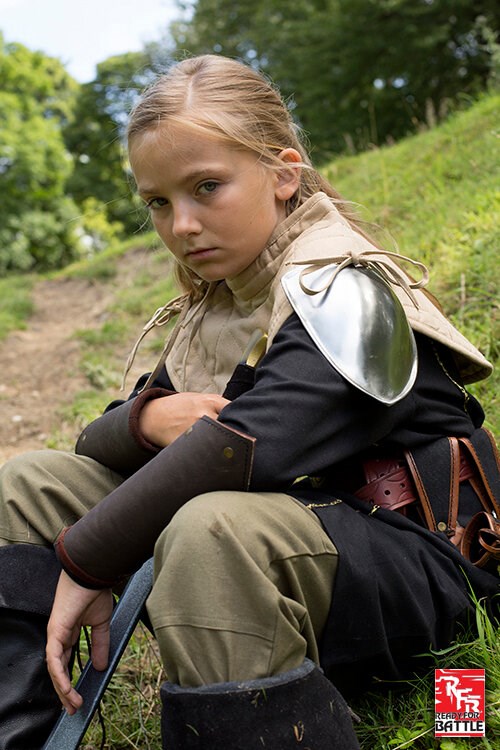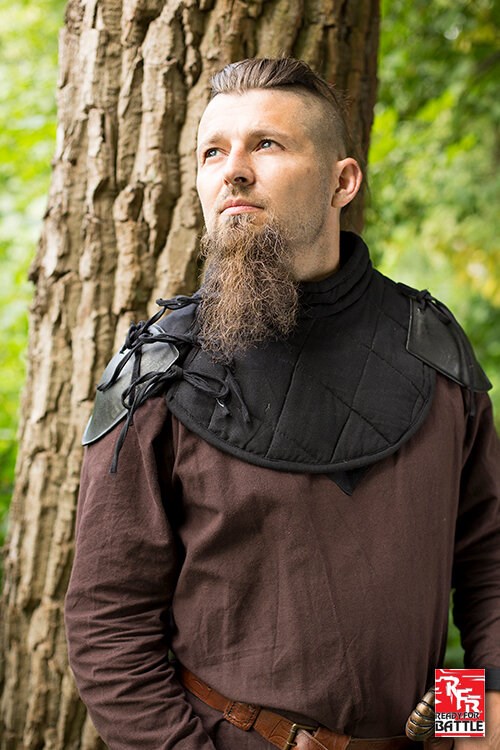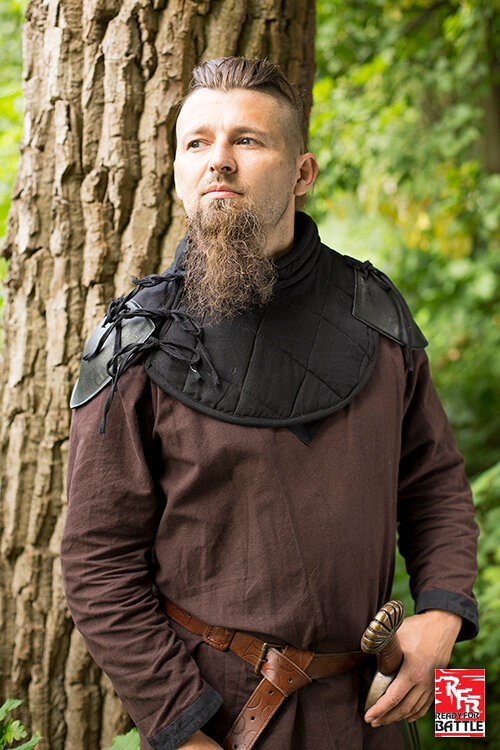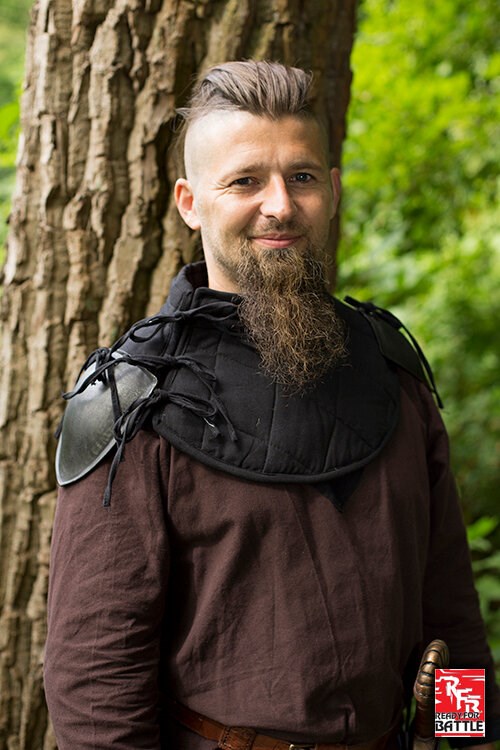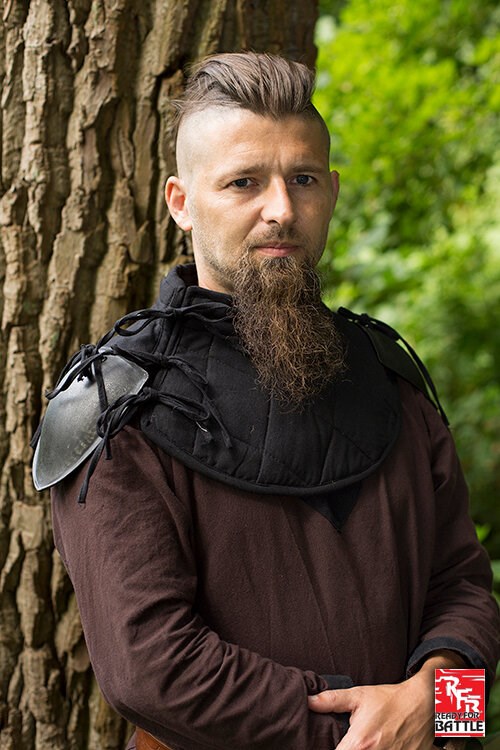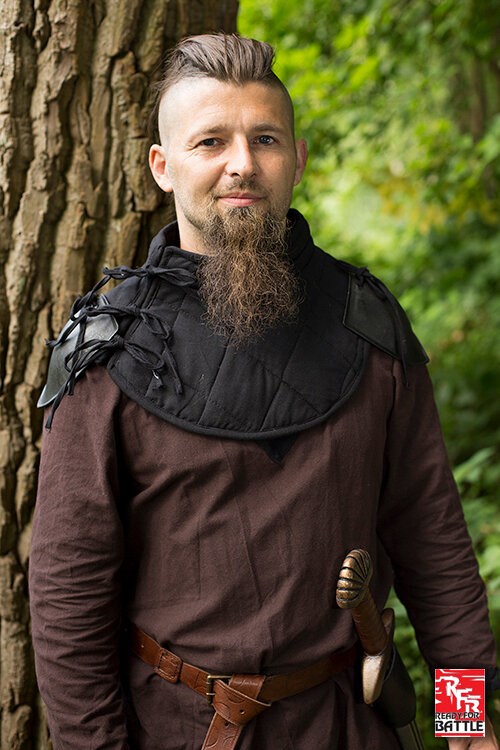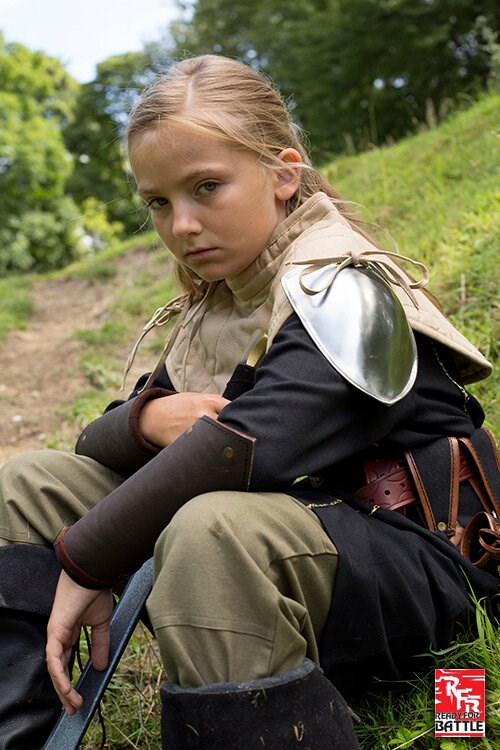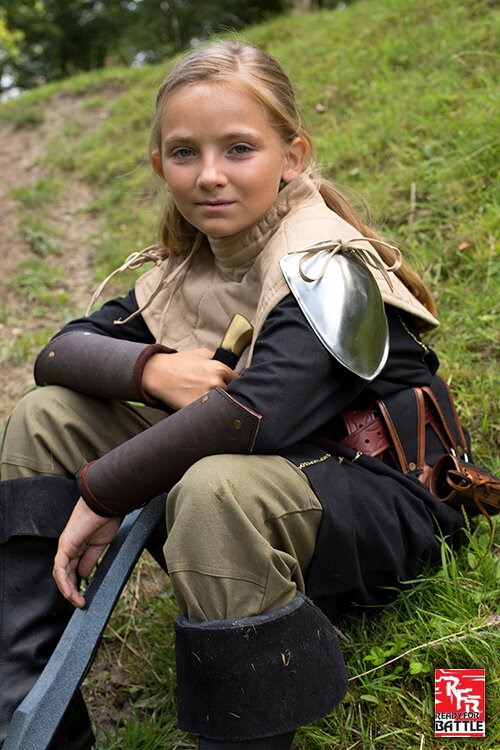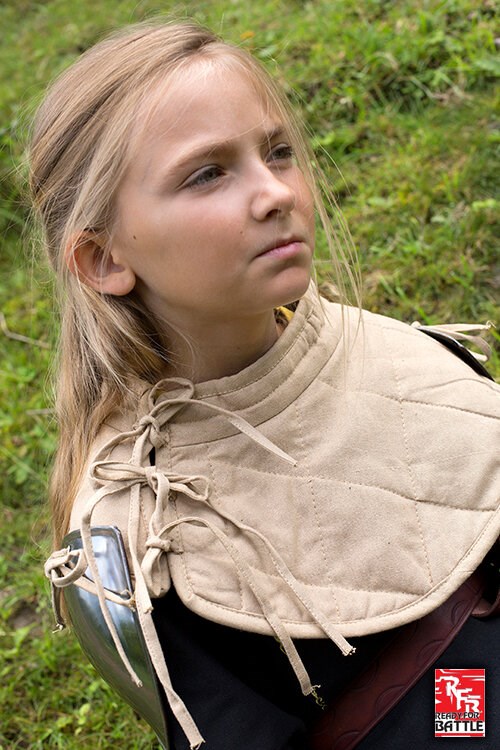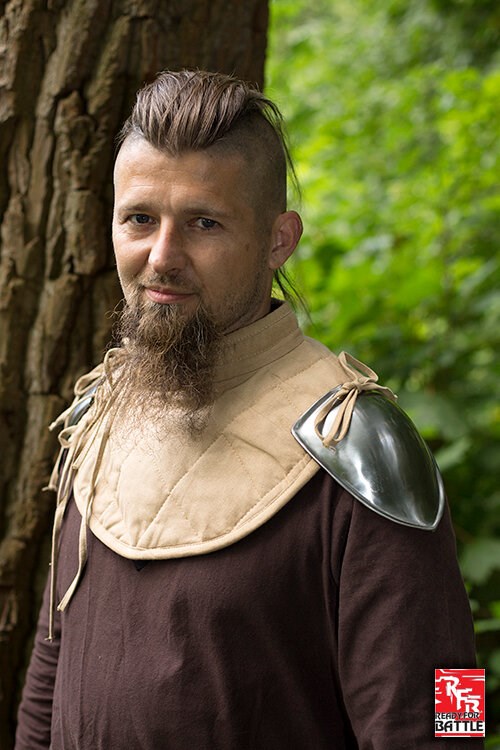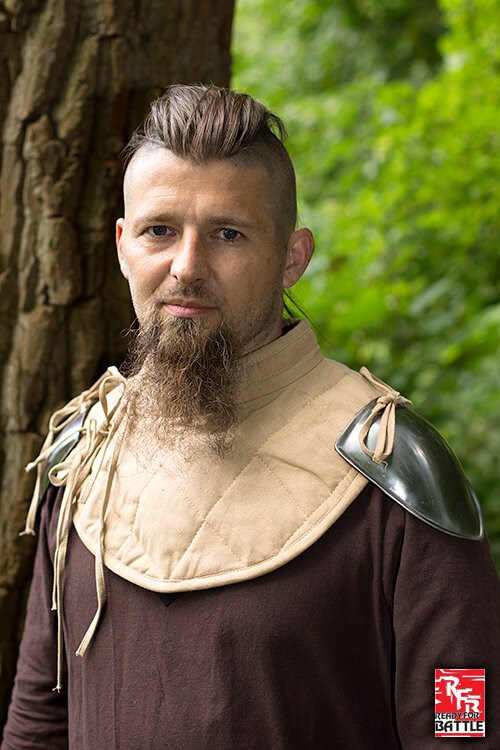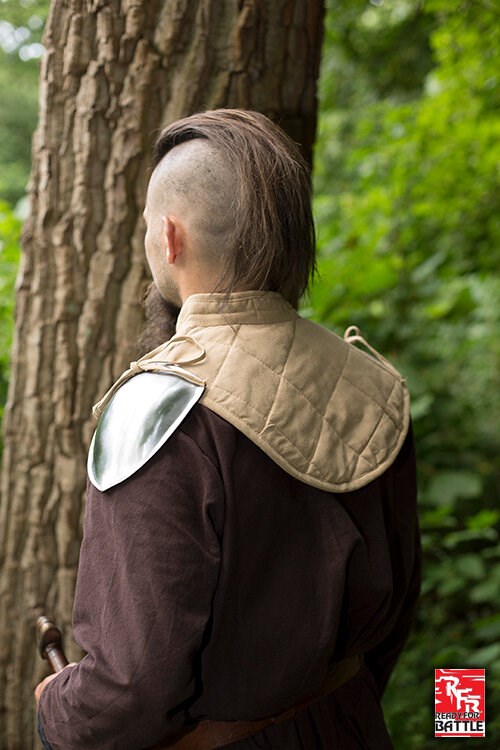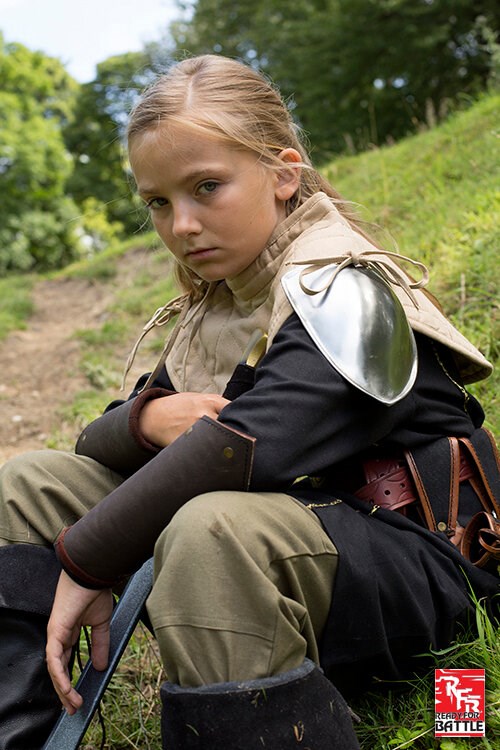 RFB Neck & Shoulders
SKU: Choose variant, Old SKU: Choose variant
SKU: {{chosenVariant.variantSku}}{{chosenVariant.oldVariantSku ? (', Old SKU: ' + chosenVariant.oldVariantSku) : '' }}
Ready For Battle, Sovereign
In Stock
Available
(choose variant)
LOG IN to see prices and add to your cart
Description

Sizeguide

Fitting

Quality

Technical Details
As a squire, you must wake with the sun to prepare for your training. You are responsible for your master as well as your extra chores, and it's only after the morning's water is boiled and you've set out your master's clothing and polished armour that you are allowed to begin your drills.
What armour you own, a RFB Neck & Shoulders set, is easy enough for you to wear as you practice your sword swings. One day you will be a fearsome knight. For now, you must continue to train hard and build your skills.
DETAILS
Epic Armoury's Ready for Battle Neck and Shoulders is a simplified version of our neck plate armour, designed to protect the upper body while remaining comfortable and lightweight. A quilted cotton gorget sits comfortably around the neck and over the shoulders, providing padding beneath other metal armours or worn on its own. Each shoulder is then protected with the addition of a steel shoulderguard, polished to shine.
Secure the RFB Neck & Shoulders armour by tightening the cotton tie-strings, adjusting so that the gorget sits comfortably around the neck while the shoulderguards sit over the apex of your shoulders. Made of polished 1 mm thick mild steel and strong cotton, this armour piece is built to withstand the abuse of a LARP or reenactment with regular cotton and metal armour care.
Available in sizes X-Small/Small, Medium/Large and X-Large/XX-Large.
HISTORY
Also referred to as a gorget, which means throat
Early versions were typically worn under the breastplate and backplate to support the weight of the heavier plate armour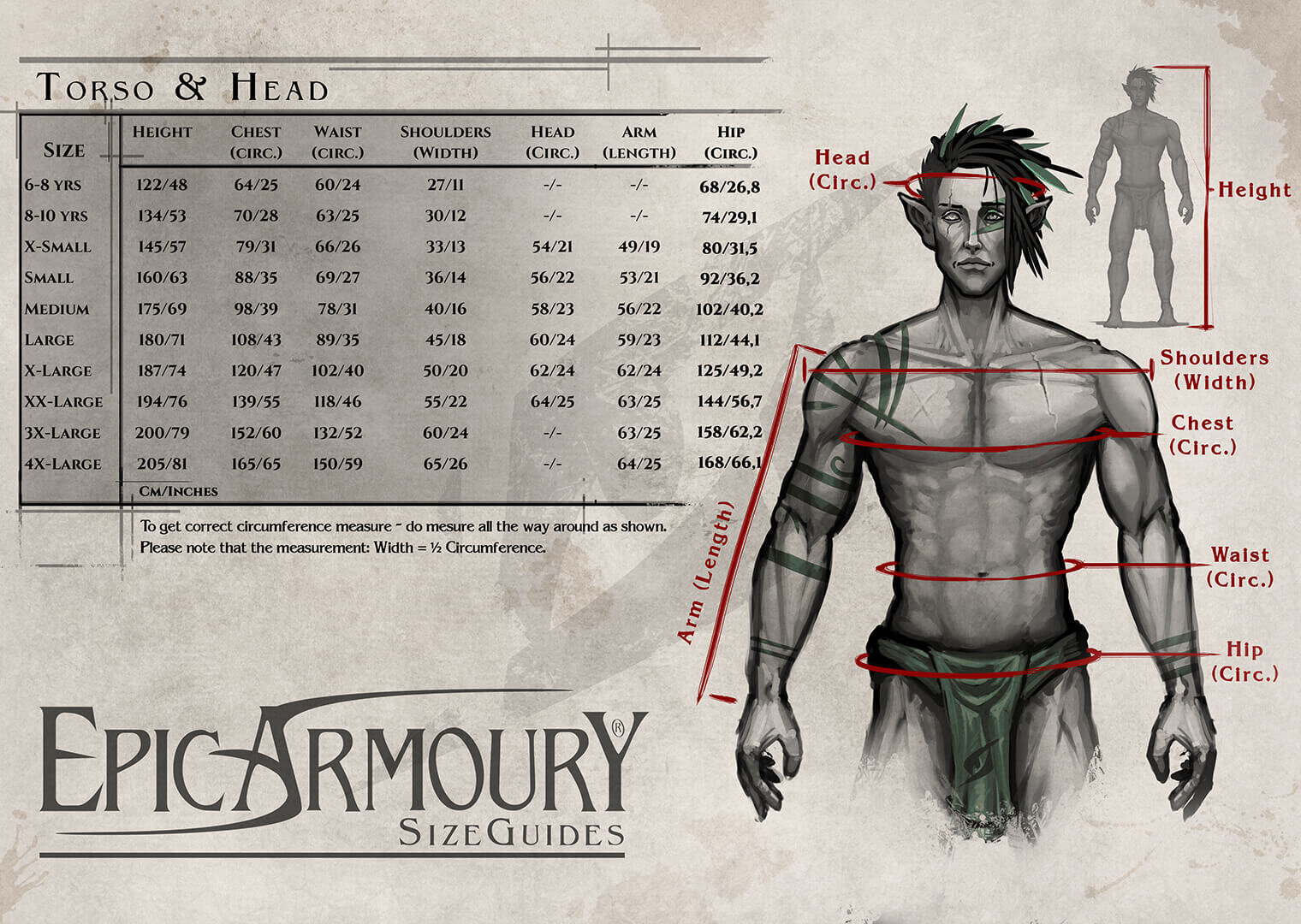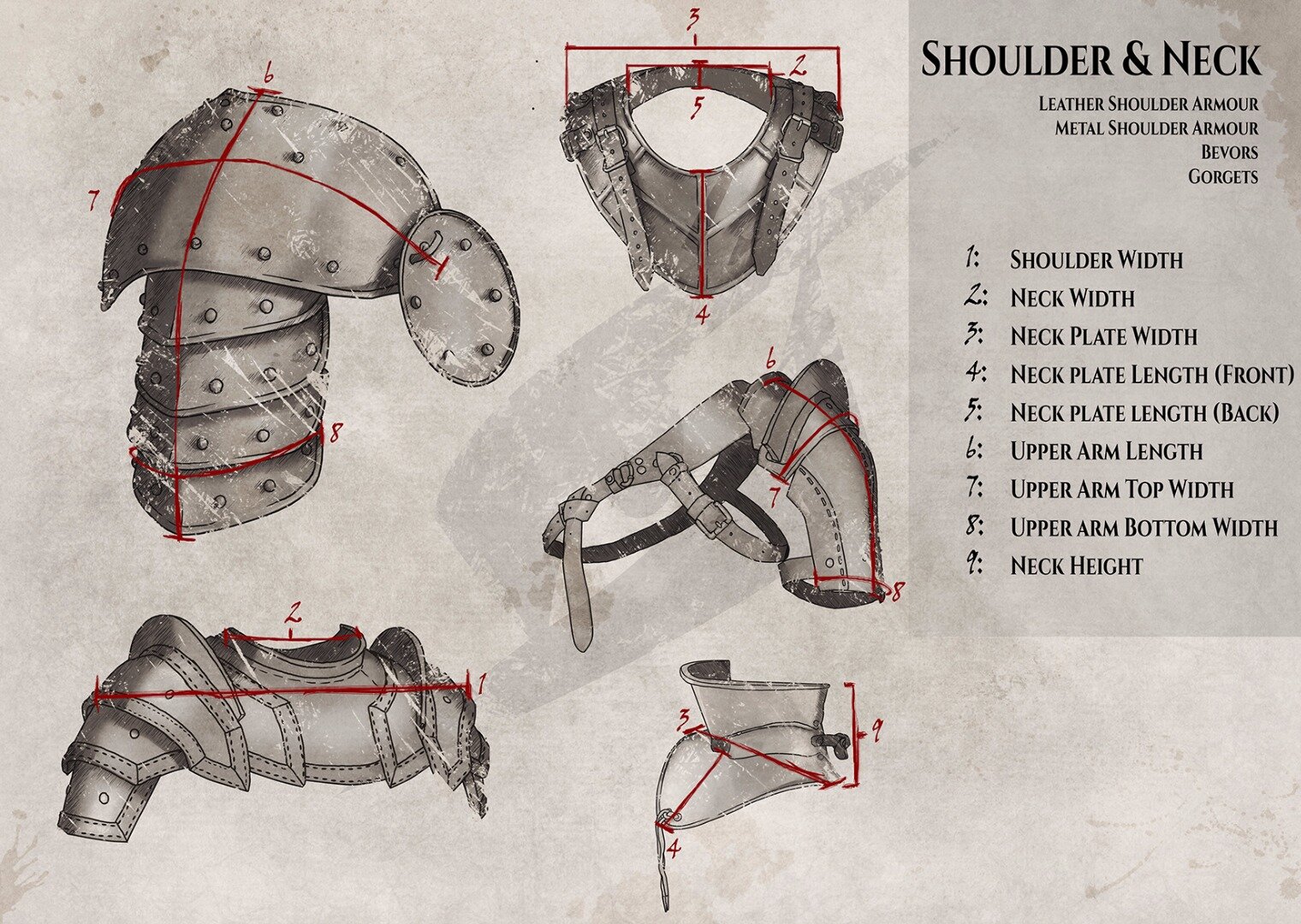 Made from 1mm/19 gauge thick mild steel
Rolled edges with no sharp edges
Straps and fittings made from sturdy cotton
Hand made, welded pieces for maximum durability
Polished steel finish
This product is handmade and hand-painted and therefore unique. As a result, when compared with similar item numbers, this product can have natural deviations in pattern, colour and shape, which are not considered defects or faults.
We produce our image material in a natural environment, where lighting and surroundings can affect colors and contrast. The displayed images may therefore appear different from the product you receive from us.
Measurements are all in cm if not stated otherwise.
Brand:
Ready For Battle
Universe:
Sovereign
Materials:
Textile
Position:
Shoulders
Product type:
Shoulder Armour
Maintenance
Epic Armoury metal works products should still be treated with oil and kept in dry storage.
Cleaning
If your armour does get wet, it is important that you dry it thoroughly as soon as possible.
After handling, wearing, or after six months of storage or display, all metal should be wiped with a clean cloth. Lightly oil the clean surface with a quality machine or mineral oil. Alternatively, you can apply a coating of wax to the entire surface of exposed metal. Allow the wax to dry for a couple of hours and then buff it lightly with a soft cloth.
Rust-Prevention and Removal
Store your armour is a dry place and check it every couple of months for signs of rust. If any is found, remove it by gently rubbing the affected spot with a mildly abrasive pad dipped in paste wax, oil, or water-displacing liquid.
Cotton Maintenance
This heavy cotton product is heavier than medium cotton, almost like denim. This material wrinkles easily, but can be ironed on a medium heat level.
Machine wash at 40°C / 104°F. Wash separately the first time and with similar colours afterwards. Tumble dry on low heat, but be aware that it might shrink up to 5%. For general stains or discoloration, treat with a commercial fabric cleaner, or blot with tepid water and a soft cloth.